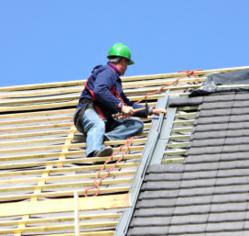 Phoenix, AZ (PRWEB) January 13, 2012
Winter is definitely a time to get things done around the house and office. The weather is cooler, so those odd jobs can be completed much more comfortably than in the hot summer months. Also, people tend to be inside more, meaning they notice the issues they may not have seen earlier. With the rain and snow that come during winter months, one of those issues may well be a leaking roof, either at home or in the office. But how does one find a reputable commercial or residential roofing contractor, especially when so many general contractors purport to provide roofing services as well? Roofing Southwest offers some tips.
Longevity can make a big difference when choosing a roofing contractor. After big hail storms, many companies may say they can do roofing, but if they just hung up their own shingle last week, their services may not be the caliber that is wanted or needed. "Typically speaking, if a company has been in business for 10 years or more, it's a safe bet they're going to do a good job," says R.J. Radobenko, vice president of sales and marketing at Roofing Southwest, which has been in business for 40 years. "But don't be fooled by someone who says he has '10 years' experience,' as that may mean an individual has been working for a variety of companies during the past decade," warns Radobenko.
All contractors must be registered with the Registrar of Contractors (ROC), and they are required to advertise that ROC number on all of their marketing collateral, including flyers, business cards, or wrapped vehicles. Customers can check the ROC website (in Arizona, it's http://www.azroc.gov/) to see if the company is registered and if any complaints have been logged against it. The fact that a company is registered means that it is bondable, so if the work is not completed, the bond will assume responsibility for the obligations.
In addition to being a licensed contractor and bonded, ask the roofing company if it is insured. Good-quality contractors carry sufficient insurance to cover their company, employees, and customers. At a minimum, the company should carry $1 million in liability and auto insurance. They are required by law to provide workers' compensation to their employees, but if their employees are not legally employable, they may not be following that requirement. Customers should ask to see copies of all certificates of coverage before agreeing to work with the roofing contractor; they should not just take the "licensed, bonded, and insured" statement as a representation of what is expected and required.
Another fast check is to look at the Better Business Bureau's website to see if the company is listed, what its rating is, and if any complaints have been logged against it. That's where customers get their say, and hearing from previous customers can make a huge difference in a prospective customer's choice to hire a roofing contractor. "Customer testimonials are a great way to check the integrity of a roofing contractor," says Radobenko. While some companies will post testimonials on the website, Roofing Southwest chooses instead to offer names for prospective customers to call. Pictures and addresses can also be requested to see the contractor's work firsthand.
About Roofing Southwest
With 40 years in the roofing business, the professionals at Roofing Southwest have decades of combined experience working on all types of roofs, both commercial and residential. The company is licensed, bonded, and insured to conduct business in Arizona, Nevada, California, New Mexico, and Texas. For more information, please visit http://www.roofingsouthwest.com or call 480-752-8550.
###