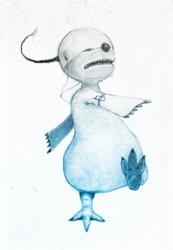 The aim of 3hundredand65 is to raise awareness (and money) for The Teenage Cancer Trust each and every day. To date, the response has been phenomenal with writers and readers involving themselves in the project.
(PRWEB UK) 13 January 2012
Sit down. There is a story to be told. The only thing is, this one will take a whole year to tell.
It is called the 3hundredand65 project and is a story told day by day, tweet by tweet, writer by writer.
So far, it's lovely and delightful, scary and intriguing. Tomorrow it could be something completely different. That's because each day, a new writer takes over and tweets the next stage in the story. 140 characters to move things along a bit and keep people reading. And each day, that Tweet is turned into an illustration by Dave Kirkwood - the chap whose idea this whole thing was to start with.
The writers are all volunteers. Anybody can put their hand in the air and pick a date which they would like Tweet on. Those dates are going fast so prospective writers have to check the calendar on the official site. Then they just send a Tweet to @dave_kirkwood and put in a request. In total there will be 365 writers with one (@jake74) Tweeting twice. Because he went first so it's only proper that he goes last.
The site can be viewed here http://www.3hundredand65.co.uk/ and the official Facebook page is at: https://www.facebook.com/3hundredand65.
So why is this being done? Apart from the fact that stories are great.
3hundredand65 is being done to raise awareness and money for The Teenage Cancer Trust. This project will enable them to continue the excellent work they do.
To help that, the site offers easy links to quickly donate and the original notebooks are being auctioned off. These notebooks will, at the end of the year, tell the full story. Bidding starts at £120, the cost of these beautiful books which are 300x210mm, hard bound with 200g/m2 top quality, acid-free paper. And if people want to commission any original, signed drawings of the characters then Dave Kirkwood is willing to agree a donation amount and do those too.
There is even a Facebook support site where people can discuss their vision for the story at: https://www.facebook.com/pages/3hundredand65-Widows/323843730970119
Stories really are great. They can inspire lives. This one could help to save them.
About the 3hundredand65 project:
Dave Kirkwood is a designer based in Manchester, England. He is leading the 3hundredand65 story project with the help of a few volunteers who have created websites, written copy and promoted this across Twitter and Facebook.
For more details: dave(at)davekirkwood(dot)com or dom(at)head-first(dot)co(dot)uk
###