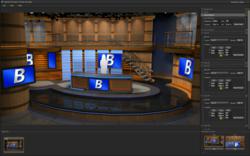 Layered Photoshop virtual sets add new levels of control to virtual set production.
Las Vegas, NV (PRWEB) January 13, 2012
Virtualsetworks efforts to push the envelope of virtual set studios have resulted in amazing new formats for use with NewTek's Tricaster™ XD Virtual Set Editor™, Adobe After Effects™ as well as other compositing applications, and stereoscopic 3D production. These new formats will offer end users amazing new capabilities for live virtual set production, powerful post production, and the emerging stereoscopic market.
NewTek's Tricaster™ XD Virtual Set Editor™ allows users to customize virtual set content to meet their needs for use in live production environments with the Tricaster XD 300, 450, and 850. Virtualsetworks Tricaster XD Virtual Set Editor Virtual Sets allow users to customize the set by turning on and off layers, adjusting colors, and changing the content in monitors right within Virtual Set Editor's easy to use interface. These new sets give Tricaster users the kind of control needed for modern virtual production environments.
Virtualsetworks new HD Extreme format brings layered Photoshop files to users of After Effects, Fusion, Combustion, and other compositing applications, not to mention Photoshop itself. The HD Extreme version is 1.5x the resolution of HD, allowing editors and compositors to zoom and crop their backgrounds adding basic 2D camera motion. Virtualsetworks HD Extreme virtual sets for After Effects feature numerous layers for controlling talent position and reflection, turning off furniture like desks to replace with your own, UV maps for replacing screen footage complete with reflections without tiresome handling of each screen manually, and many other additional layers like depth and normal maps. The HD Extreme format brings amazing new abilities to your software and levels of customization not previously available.
Stereoscopic 3D production has been quite a buzzword at the last few tradeshows. But like HD before it, it took time for end to end production cycles to evolve. Virtualsetworks is adding to that cycle by introducing a full line of stereoscopic 3D virtual sets which can be used right in editing programs configured for use for stereoscopic production. One of the amazing benefits of stereoscopic virtual set production vs real world stereoscopy is that a 3D camera rig is not strictly necessary. A single camera used to capture the greenscreen footage and keyed at the right depth (automatically via the provided UV maps) gives the viewer the impression of 3D depth without the need for real world 3D camera gear.
Watch our virtual sets in action here:
http://www.youtube.com/user/Virtualsetworks/videos
Or download a trial virtual set here:
http://www.virtualsetworks.com/Demo.aspx
About Virtualsetworks LLC
Created to help producers and editors access high quality virtual set content at a fraction of traditional set prices, Virtualsetworks continues to set the benchmark for cost effective stock virtual set content and design.
###