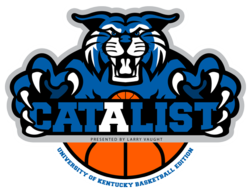 My Twitter blew up with comments about the app.
(PRWEB) January 12, 2012
In a move to embrace Twitter as a breaking-news platform, Advocate Communications, Inc. released a new app in the Apple App Store this week called CATALIST UK Basketball that curates Twitter status updates from Kentucky basketball players, coaches, recruits, and their opponents to provide fans with a real-time source of insights into the mindset of the teams. The app will be managed by the team in Danville, KY who publish The Advocate-Messenger newspaper, and it will feature professional sports analysis from Larry Vaught and other sports writers at the paper. The idea for the app came out of an observation that sports writers were turning to Twitter to find out what players, coaches and recruits had to say about a team's practice, strategies, injuries, and more.
"We see this as a Social - Local - Mobile - Professional application that takes pieces of each to follow players and understand their world. College basketball players are like celebrities, especially in Kentucky," said Sandy Martin, Mobile Director at Schurz Communications. "The name for the app came out of that idea as well. This represents the Kentucky Wildcats' A-List of players, so it's the cat-a-list, or CATALIST in short."
The fans have reacted enthusiastically to the app in its first week of release. Larry Vaught was caught off guard on the 2nd day that CATALIST was in the App Store saying, "My Twitter blew up with comments about the app." He was surprised by how quickly and strongly the fans reacted to the app before any formal announcement was made. Most of the comments have been recommendations that others download it, but there have been a few Android users expressing dismay that it isn't available for them yet. Larry Vaught could relate. He also has an Android phone. His words to those fans, "It's coming soon."
# # #