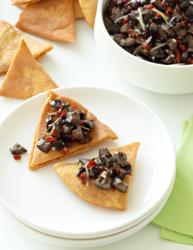 Lafayette, CA (PRWEB) January 16, 2012
With Super Bowl XLVI around the corner, Lindsay Olives offers five healthy and delicious olive snack recipes to please the crowd at Super Bowl parties. Olives contain zero cholesterol and no saturated fat, making them a nutritious alternative to foods usually served at Super Bowl get-togethers. They count as a serving of fruit, and one serving of olives (six large olives) contains less sodium than a typical slice of bread. They are also gluten-free, soy-free, lactose-free and are vegetarian and diabetes-friendly.
"Here at Lindsay Olives we love traditional party snacks, but it's also great to serve a few figure-friendly bites," said Jennifer Fuchs, consumer marketing manager at Lindsay Olives. "Olives contain just 20 calories per serving, so you get great flavor without adding too many calories."
Super Bowl Snack Facts (according to the Calorie Control Council and Snack Food Association):

Americans double their consumption of snacks on Super Bowl Sunday
People will consume:
33 million pounds of salty snacks and sweets
11.2 Million pounds of potato chips (which translates to 27 billion calories)
8.2 million pounds of tortilla chips
The average person consumes 1,200 calories at a Super Bowl party
With these facts in mind, it's important to serve snacks that can also offer nutritional value. Lindsay Olives recommends these tasty alternatives:

More snack tips:

Keep snacks simple – Hosts should enjoy the party, too. Pick a few simple dishes that are finger foods or just need toothpicks to avoid major cleanup. Do as much prep work and assembly ahead of time as possible. Set snacks out once guests arrive.
Serve from a Crock-Pot – easy to cook in, and it will keep food warm for hours
Add olives – A great way to jazz up a dish is to add olives for a burst of flavor and great texture. Try them in a chip dip, on flatbread, in salsa or served in a bowl mixed with seasonings and olive oil.
Serve a variety of beverages – Guests will be thirsty, so select up to three beverages to serve at the Super Bowl party. Be sure to offer beverages that meet your guests' dietary needs and taste preferences.
About Lindsay Olives
Lindsay Olives provides a full line of olives, including its delicious, savory California black ripe olives and Naturals Green Ripe olives. Lindsay Olives' parent company, Bell-Carter Foods, Inc., was established in 1912 in Berkeley, California, and now produces more than 10 million cases of olives annually, making it the largest U.S. table olive processor. Fourth generation family owned, the company is headquartered in Lafayette, California, and processes olives in Corning, California.
# # #