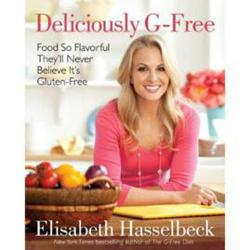 "ElisabethHasselbeck.com allows the conversation Elisabeth begins each day on The View to continue on her own interactive site," notes Miles Beckett, Co-Founder and CEO of EQAL.
Los Angeles, CA (PRWEB) January 11, 2012
Elisabeth Hasselbeck, talk show host, best-selling author, nogii diet founder and outspoken advocate will officially launch ElisabethHasselbeck.com, her g-free lifestyle community on January 11th announced EQAL, the media company that builds influencer networks around celebrities and brands.
The site, which will be updated daily, acts as an online extension of Deliciously G-Free as well as a place to discover Elisabeth's New York, her parenting tips, and what she loves about being an American.
Users will dish on The View, share stories, opinions and recipes and communicate with Elisabeth directly about shared passions. ElisabethHasselbeck.com is a fully functioning social network complete with user profiles, comments, direct messaging and photo albums.
ELISABETH HASSELBECK OFFERS ONLINE EXCLUSIVE RECIPE AND RECIPE CONTEST
Elisabeth kicks off her site with an online exclusive gluten-free blueberry waffle recipe which she refers to as, "crispy-on-the-outside, soft-on-the-inside." In addition to the waffle recipe, Elisabeth is reaching out to her fans to contribute their own favorite G-Free recipes to her site through a contest. The 2 week contest asks users to submit their G-Free recipes for a chance to win a signed copy of Deliciously G-Free, a box of NoGii bars, and a gift basket of Elisabeth favorite gluten free foods. For more information on the contest, please visit: ElisabethHasselbeck.com.
Elisabeth says, "I'm so excited to be launching this G-Free community as a place to share our best tips and tricks for turning ordinary foods into extraordinary g-free delights. And, as a forum to talk about the g-free lifestyle and expand upon all of the global issues that are important to us-- from Motherhood to the elections."
"ElisabethHasselbeck.com allows the conversation Elisabeth begins each day on The View to continue on her own interactive site," notes Miles Beckett, Co-Founder and CEO of EQAL, "We are happy to bring an influential and outspoken personality like Elisabeth into the EQAL network, allowing her community to gather and contribute around the issues that are important to them."
BLUEBERRY WAFFLES RECIPE
Serves 6 (makes six 7-inch waffles)
4 eggs, separated
2/3 cup 2% milk
¼ cup gluten-free light sour cream
4 tablespoons (1/2 stick) salted butter, melted
Juice of 1 lemon
1 cup brown rice flour
¼ cup millet flour
¼ cup potato starch
¼ ground flax meal
2 tablespoons sugar
2 teaspoons baking powder
½ teaspoon baking soda
1 teaspoon guar gum
¼ teaspoon salt
1 cup fresh or frozen blueberries (defrosted if frozen)
Maple syrup, or blueberry or raspberry syrup, for serving
1. Preheat waffle maker according to the manufacturer's instructions.
2. Place the egg yolks, milk, sour cream, butter, and lemon juice in a large bowl. Whisk until well combined. Sprinkle the brown rice flour, millet flour, potato starch, flax meal, sugar, baking powder, baking soda, and guar gum over the egg yolk mixture. Whisk until smooth.
3. Place the egg whites and salt in another large bowl. With an electric mixer on high speed, which the egg whites until stiff peaks form, about 2 minutes. Using a rubber spatula, fold a scoop of the egg whites into the batter; then carefully fold in the remaining whites with a rubber spatula.
4. Spoon ½ cup of the batter onto the waffle iron and cook according to the manufacturer's instructions. Keep the waffles warm while you repeat with the remaining batter. Serve hot, with the fresh or frozen blueberries and the syrup of your choice.
ElisabethHasselbeck.com is an EQAL Media Partner.
About Elisabeth Hasselbeck:
Elisabeth Hasselbeck is a talk show host, wife, best-selling author, mother, celiac, and founder of Nogiidiet.com and nogii.com . Best-known as the Emmy-winning co-host of ABC's "The View," Elisabeth's opinions on politics and social issues have provided a colorful counterpart to her co-hosts since 2003. Prior to "The View," Elisabeth came into the public eye in 2001 when she placed fourth overall on "Survivor: The Australian Outback."
Elisabeth lives with celiac disease and in 2009 penned her first book, "The G-Free Diet: A Gluten-Free Survival Guide" which appeared on several best-seller lists including The NY Times. Her highly anticipated new cookbook "Deliciously G-Free" will be available in early January, 2012.
An avid runner, Elisabeth is a dedicated supporter of Team RWB (red, white & blue), an organization that raises awareness of the needs of American Veterans through athletic events. Team RWB helps veterans readjust to civilian life by providing companionship, assistance with job hunting and more. With her husband Tim, Elisabeth also supports troops overseas by donating boxes of their Nogii energy bars to provide nourishment.
In addition to all of this, Elisabeth is a dedicated wife and mother of three who cherishes spending time with her family
About EQAL:
EQAL is a media company that builds influencer networks around celebrities and brands. Their celebrity and brand networks include the official websites and social media accounts for celebrities including Tori Spelling, Lauren Conrad, Bethenny Frankel, Nick Cannon, Denise Richards, Ty Pennington, Elle and Blair Fowler and the brand partnership with Philadelphia Cream Cheese that recently won a Gold Effie Award. Their celebrity networks generate 2 billion impressions per month and reach over 25 million people. EQAL's "hub and spoke" strategy focuses on building an integrated media property by increasing social media numbers, driving traffic and engagement to the celebrity's official website, and providing new revenue opportunities.
EQAL was founded by Miles Beckett and Greg Goodfried, creators of the online sensations lonelygirl15, KateModern (with Bebo) and Harpers Globe (with CBS television). The two are widely credited as being the first to create quality serial programming for the internet, for integrating products into online programming and for originating the first "online to on-air" programming with a network television show. Miles and Greg are frequent speakers on digital entertainment and brand integration in the online space as well as the future of entertainment on the internet and beyond. The company continues to evolve at the rapid speed of the medium as it combines quality content, celebrity influencers and technology.
Contact for ElisabethHasselbeck.com:
Melissa Kwechansky, EQAL
Melissa(at)EQAL(dot)com
818.276.6319
Jill Siegel, EQAL
Jill(at)EQAL(dot)com
917.214.1710
# # #