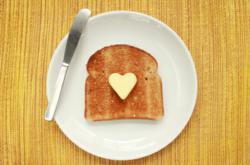 Washington, DC (PRWEB) January 12, 2012
A new study published by Danish researchers in the American Journal of Clinical Nutrition (AJCN) reveals that people who ate butter daily for six weeks had higher total cholesterol and higher LDL ("bad") cholesterol levels compared to a baseline diet. According to the National Association of Margarine Manufacturers, the new findings add further support to the existing scientific literature, which shows that consumption of margarine products reduces risk markers for cardiovascular disease, including unhealthy blood lipids, while consumption of butter raises these markers.
The dietary intervention, published in the December issue of AJCN, examined roughly 50 men and women who agreed to follow a controlled diet that, in one phase, included a daily allotment of butter equal to 13% of their total calories (for example, a daily intake of 47 grams of salted butter, equal to roughly 3.3 tablespoons, was prescribed for participants with an assessed energy need of about 2340-2985 calories). Blood values taken after the 6 week intervention period showed a statistically significant increase in total cholesterol, LDL cholesterol and triglycerides during the butter intake period as compared to the participants' baseline ("normal") diets.
The detrimental effect of butter intake on blood lipids has been demonstrated time and again. One groundbreaking study, published in the Journal of the American Medical Association (JAMA), showed that making the simple switch from butter to soft spread margarine lowered levels of LDL ("bad") cholesterol by 9% in children and 11% in adults; this intervention, which lasted for 5 weeks, replaced 25% of total calories with fat from either butter or soft margarine (1). This echoes a larger body of scientific research that shows margarine to be a more healthful alternative to butter (2).
The new AJCN research further supports advice found in both the 2010 Dietary Guidelines for Americans and the Harvard School of Public Health's Healthy Eating Plate, both of which recommend replacing animal fats like butter with more healthful plant-based oils, including soft spreads. Today's soft spreads (also known as buttery spreads) have 2 grams or less saturated fat per serving, no cholesterol and contain polyunsaturated fat – widely recognized as a "good" fat. Additionally soft spreads found on shelves today show "0 grams trans fat" on their Nutrition Facts Panels, in keeping with dietary guidance to keep trans fat intake as low as possible.
References:
(1) Denke et al. Individual Cholesterol Variation in Response to a Margarine- or Butter- Based Diet. Journal of the American Medical Association. December 6, 2000. Vol. 284. No. 21. 2740-2747
(2) National Association for Margarine Manufacturers. "Research Confirms Margarine's Healthfulness Over Butter: Research Summary." http://www.butteryspreads.org/choose-buttery-spreads.php
For more information on the benefits of soft spread margarines, please visit http://www.butteryspreads.org or follow us on Twitter @healthyspreads.
###