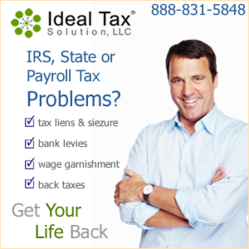 Costa Mesa, CA (PRWEB) January 11, 2012
With the good, comes the bad. There have been some changes in tax benefits in 2011 to assist taxpayers in lessening their tax debt. But then, there are a slew of special tax requirements that are affecting millions. Year after year, Americans fall behind on tax debt they cannot pay. Some people decide to just not file tax returns to avoid the amount owed at the end of the year. Clever thinking, however this ends up making things worst. The IRS files the tax return for the taxpayer and this can result in triple the amount owed.
The IRS announces, "Two Extra Days to File and Pay; Taxpayers across the nation will have until Tuesday, April 17, 2012, to file their 2011 income tax returns and pay any taxes due. Taxpayers have extra time because April 15 falls on Sunday, and Emancipation Day, a holiday in the District of Columbia, is observed the following day on Monday, April 16. By law, filing deadlines that fall on D.C. holidays are extended to the next day that is not a Saturday, Sunday, or holiday. The April 17 deadline applies to any return or payment normally due on April 15. It also applies to the deadline for requesting a tax-filing extension and for making 2011 IRA contributions. Tax Benefits Extended; Legislation, enacted in December 2010, extended several popular tax benefits, including the American opportunity credit for parents and students, the enhanced child tax credit and the expanded Earned Income Tax Credit. This is some good news for taxpayers considering not everyone is savvy with deadlines.
No matter what benefits come and go as the years past, a constant issue is always at hand. There are millions of Americans who have large tax liability and are having their wages garnished, their bank accounts levied and having liens placed on their properties or accounts. Most of these people are turning to tax resolution companies to gain assistance in these areas as they can help resolve these debts simply. Teams of Enrolled Agents and Tax Attorneys are able to communicate with the IRS on one's behalf and negotiate resolutions.
About the company: Ideal Tax Solution, LLC is located in Costa Mesa, CA and provides tax negotiation services, preparation and is a collection defense specialist. Their Tax Attorneys, IRS Enrolled Agents, CPAs, Senior Tax Consultants have over 55 years of combined experience working to help American tax payers with the IRS and State Tax Agencies. Ideal Tax boasts an "A" rating with the Better Business Bureau earned through providing excellent services.
###