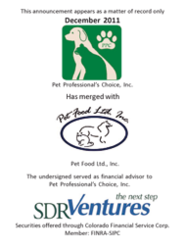 Pet Food Ltd's merger with Pet Professionals Choice will allow us to offer even better selection, pricing, and service to our Florida customers
Denver, Colorado (PRWEB) January 12, 2012
SDR Ventures, a Colorado-based investment-banking firm, recently announced the facilitation of the merger between Pet Professionals Choice (PPC), headquartered in Longwood, FL and Pet Food Limited (PFL), headquartered in Tampa, FL. SDR's pet industry expert, Carol Frank, served as sell-side advisor through the transaction process.
Founded in 1994, PPC is an established distributor of pet products and a distributor of Natura, Fromm, and Evanger's Pet Foods, among many other brands. PPC has delivered thousands of products throughout Florida and enjoyed significant growth over the last few years, due in part to founder Brian Frohne's commitment to quality, service, and customer relations.
"I am really looking forward to working with the Pet Food Limited team said Brian. They have been a great competitor over the years."
Managing PPC is Pet Food Ltd, Inc, a highly respected pet food distributor servicing retail pet outlet throughout Florida, and sister corporation PFX Pet Supply LLC. PFX has warehouses in Sacramento, Portland, Seattle, Denver, Phoenix, Los Angeles.
According to Bern Levine, CEO of Pet Food Limited, "We are very excited to have Brian as part of our team. The merger with PPC will allow us to offer even better selection, pricing, and service to our Florida customers."
About SDR Ventures
SDR Ventures is a boutique investment bank serving the lower middle market, including companies with values up to $200 million. Operating beyond the confines of a traditional investment bank, SDR is reinventing the way business owners approach the market, offering transaction advisory, capital formation, strategic advisory and performance exchange services.
###