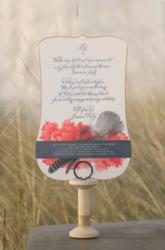 Houston, TX (PRWEB) January 16, 2012
Mali Chi, founder and creative director of Hello & Co, will be making a personal appearance with the first collection of BHLDN gown inspired stationery. When Mali set out to design her innovative line, she wanted to exemplify the essence of the gowns. Mali feels stationery is the insight to the tone of each bride's wedding, transforming the aesthetic and feel of the event onto paper. From fonts to fine papers, she creates patterns and details to complement some of BHLDN's most beloved gowns like the Eyelet Medley Sheath and the Windswept Gown. No other stationer in Houston boasts Mali's passion for aesthetic and artistic craftsmanship.
When Mali Chi was asked about her inspiration for the collection, she expresses "Spending most of my career as an art director responsible for creating campaigns, I always look at the big picture. I address weddings using the same method to create an event that is cohesive from start to finish. It only seems natural to use the bride's wedding gown for all the elements of the wedding day to revolve since there is so much emphasis leading up to the bride. The BHLDN gowns are so unique and artfully elegant, but BHLDN itself is even more than that. They offer an entire experience for the senses. That is my inspiration. Their approach is very parallel to my own, so creating invitations inspired by their gowns was natural."
Event planners are invited and encouraged to bring their brides to the event. They will enjoy the afternoon browsing the BHLDN store served with an assortment of treats provided by the Black Hole's baker, Alicia Alvarado and eco chic decor by Vernon Caldera. Mali, along with calligrapher Pat Leigh, of Calligraphy by Pat, will consult with brides to customize ideas and find the stationery to best complement their wedding. In conjunction with the beautiful gowns at BHLDN, the event creates an invaluable experience for not only the bride, but all involved in the wedding planning process.
About Hello & Co: Hello & Co. is a luxury stationery design studio based out of Houston, Texas, specializing in all things custom—including but not limited to: Letterpress, embossing, color trends, custom foils die cuts, monogram design, texture and typography. Founded and created by owner and designer, Mali Chi in 2008, Hello & Co offers a full collection of Wedding Stationery, greeting cards, gifts and more. For more information please visit http://helloandco.com.
Media Contact:
Sophee Houseman, Public Relations Associate
Retna Media
2100 West Loop South
Suite 900
Houston, TX 77027
T : 713.590.3674
http://www.retnamedia.com
###