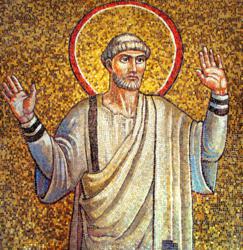 "Hildreth Meière is an artist who left an indelible imprint on New York City," said
Dr. Ena Heller, Executive Director of MOBIA.
New York, NY (PRWEB) January 12, 2012
Renowned and versatile Art Deco muralist Hildreth Meière (1892-1961) is the subject of the Museum of Biblical Art's exciting new exhibition Walls Speak: The Narrative Art of Hildreth Meière. On view from February 3 to May 20, 2012, Walls Speak showcases the liturgical designs this path-breaking artist created for many of the New York metropolitan area's most iconic places of worship, including Temple Emanu-El; Saint Bartholomew's Church; St. Michael's Passionist Monastery Church in Union City, New Jersey and other religious landmarks. Organized by the Regina A. Quick Center for the Arts at St. Bonaventure University and curated by Catherine Coleman Brawer, the exhibition features over 90 objects, including hand-painted altarpieces and full-scale sample mosaics. Also on view are the gouache studies, cartoons and models that were the basis for Meière's completed designs, as well as photographs of some of her most storied commissions. This is the first presentation of Walls Speak to focus exclusively on Meière's magnificent work for synagogues and churches. Visitors will rediscover a major American muralist whose cutting-edge approach to design, material and technique propelled her to prominence at a time when few female artists had gained acceptance and whose artistry richly enhanced sacred spaces.
Specializing in mosaic—now a nearly lost art—Hildreth Meière was one of the most celebrated and prolific muralists of the 20th century. An early proponent of Art Deco, she drew inspiration from the medieval mosaics of Ravenna and the Renaissance murals of Florence, bringing streamlined contemporary style to traditional motifs. She received her first major commissions from leading architect Bertram G. Goodhue and during her career completed over 100 projects which were evenly split between the secular and religious. She left her mark on New York City's vast landscape, including the 1939 New York World's Fair, Radio City Music Hall, the Red Banking Room at One Wall Street and Saint Patrick's Cathedral. In 1956, she became the first woman to receive the Fine Arts Medal of the American Institute of Architects, and was the first woman appointed to the New York City Art Commission.
"Hildreth Meière is an artist who left an indelible imprint on New York City," said
Dr. Ena Heller, Executive Director of MOBIA. "The exhibition explores her role in the decoration of many of America's most magnificent houses of worship and reveals her as a creative force who deserves a place amongst the most accomplished artists of the 20th century."
Exhibition Background
Born into New York society and taken to Europe to study art, Meière designed costumes which appeared at the Metropolitan Opera as early as 1917. During a career that spanned five decades, she created monumental installations for religious, government and commercial buildings. Illustrating subjects that ranged from astronomy to the women's movement, she drew upon mythology, biblical history, the lives of the saints and Native American art. Through studies, working drawings, models and photographs of finished interiors taken by the artist's granddaughter Hildreth Meière Dunn, visitors to MOBIA will see firsthand how Meière's artistic process evolved from conception to final form. The exhibition includes newly restored footage of Meière and artists at work on portable triptychs for the armed services during World War II. Three of her triptychs are on display.
Meière collaborated with skilled European-trained craftsmen to execute her designs in glazed ceramic tile, Byzantine-style glass mosaic, silhouette mosaic, wood inlay and stained glass. Famed in her lifetime, her work has received less attention as styles and tastes have changed.
Exhibition Highlights
(see attached images)
St. Peter, sample mosaic for the Transfiguration, 1928. St. Bartholomew's Church, New York. Glass mosaic, 58 ½" x 59 ½". Working for the first time in glass mosaic, Meière depicted the Transfiguration as described in the Gospel of Mark for the half-dome of the apse. Her Byzantine-style mosaic is composed of tesserae - fragments of colored glass intermingled with gold-leafed glass. Multiple shades of gold were employed.
Pelican, sample mosaic for apse panel, 1929. St. Bartholomew's Church, New York. Glass mosaic, 50" x 20". St. Richard Parish, St. Louis, Mo.; promised gift to St. Bonaventure University. Meière was commissioned to create designs representing a series of animals, including a lion, unicorn, eagle, peacock, pelican and stag – all symbols of Christ – as insets for the lower part of the apse. In this image, the Pelican pierces her breast to feed her chicks.
Triptych no. 146 for the Armed Services, "Our God Shall Fight for Us," World War II, 1944. Oil on wood with gilded gesso, 60" x 72"; the Virginia War Museum, Newport News, Va. Meière wrote her family, "By way of war work, I am doing more and more altarpieces for chaplains... There is some talk of turning out 500 of them, and I am being counted on for a lot of the designing and directing. God help me!" Meière spearheaded a program to provide portable soldiers' altars that were used in Jewish and Christian services during WWII. The Biblical figures constructing the walls of Jerusalem on the left wing of the triptych relate to the contemporary bridge-builders and servicemen at worship on the right wing.
Walking Tour
A self-guided walking tour of New York City will enable visitors to view a range of finished installations, including Meière's mosaic arch in the main sanctuary of Temple Emanu-El, the largest synagogue in the world.
Funding
Major support for MOBIA's exhibitions and programs has been provided by the American Bible Society and by Howard and Roberta Ahmanson. This program is supported, in part, by public funds from the New York City Department of Cultural Affairs, in partnership with the City Council. Walls Speak is made possible by the New York State Council on the Arts with the support of Governor Andrew Cuomo and the New York State Legislature.
About the Museum of Biblical Art:
Located near Lincoln Center at 1865 Broadway at 61st Street, the Museum of Biblical Art presents critically acclaimed art exhibitions while offering high quality, affordable arts enrichment programs to visitors of all ages. MOBIA celebrates and interprets art related to the Bible and its cultural legacy in Jewish and Christian traditions through exhibitions, education and scholarship. Past exhibitions have ranged from masters of the Italian Renaissance to the art of Marc Chagall. Admission to MOBIA's exhibitions is free for members and children under 12 and pay-what-you-wish for adults, with a suggested admission of $7; Sundays are free. Museum hours are: Tue., Wed, Fri., Sun.: 10:00 AM-6:00 PM; Thurs: 10:00 AM-8:00 PM; Mon: Closed. Visit http://www.mobia.org for more information on current exhibits and public programs.
###