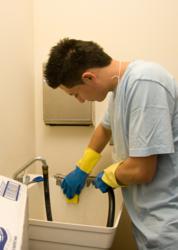 Utilizing green cleaning processes has resulted in a 7% reduction lost time due to employee illness since Commercial Janitorial made changes.
Washington, D.C. (PRWEB) January 12, 2012
Addressing a growing need for environmentally friendly janitorial services in Washington D.C., Commercial Janitorial is expanding its operations to offer green cleaning to schools, businesses and other businesses in the Capitol Region. As a leader in green cleaning services, the company will be able to support customers from the Northern Virginia region to the Baltimore office cleaning markets, bringing a new level technical cleaning expertise to the mid-Atlantic seaboard.
According to company president, Ryan Stark, the market dictated the need for Commercial Janitorial to open this new office. Stark said, "Unlike many national office cleaning companies, Commercial Janitorial is not a franchise so we have been taking slower approach than many franchised cleaning firms. However, market demand for green cleaning has dictated that we needed to open up a branch office in Washington D.C. to support a growing customer base."
Commercial Janitorial hopes to differentiate itself from the competition by not only improving the cleanliness of a school or office, but through improving the health of the people working or visiting. Research by the EPA indicates that many people are sensitive to the harsh chemicals that are frequently used for cleaning, leading to asthmatic issues, allergic skin reactions and higher levels of absenteeism. The green cleaning process means using cleaning techniques that reduce or eliminate volatile organic compounds, as well as the fragrances and artificial coloring that, while pleasing to the eyes or sense of smell, only add another potential source of contamination.
One recent example is the company worked with Tempest Telecommunications, a Reston, Virginia company, to initiate a total cleaning program utilizing green cleaning processes which has resulted in a 7% reduction lost time due to employee illness since Commercial Janitorial made changes. This is an example of how enhanced cleaning practices that is focused on real cleaning while eliminating harsh chemicals, fragrances and artificial coloring that can contaminate bathrooms, kitchen areas and personal workspaces. It was also an essential component of the company's strategy for gaining LEED certification for their headquarters.
To learn more about green cleaning in the Washington, D.C. visit http://commercialjanitorial.com/green-cleaning.aspx
###