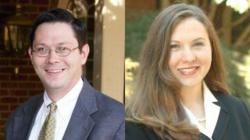 Harrisonburg, VA (PRWEB) January 17, 2012
Jeffrey R. Adams and Whitney Jackson Levin have been named as partners with the law firm of Wharton Aldhizer & Weaver PLC.
Mr. Adams joined the firm in 2008. He advises businesses and individuals on a variety of matters, including business organizations, transactions, and succession planning; contracts and commercial law; estate planning and administration; and taxation, including matters related to tax-exempt organizations. He concentrates his practice on federal, state and local taxation and related matters.
Throughout his legal career, he has been a frequent and well received presenter at Continuing Legal Education and Continuing Professional Education seminars, speaking to fellow members of the bar and accountants on matters related to business law, estate planning, and taxation.
Jeffery Adams was admitted to the New York bar in 1994 and the Virginia bar in 1999 and has practiced for large corporate law firms in New York and Virginia. He received his juris doctor from Duke University, his Master of Divinity from Virginia Theological Seminary and his Bachelor of Arts from King's College.
From 2004 until 2008, he lived in Mukono, Uganda, where he served as general counsel and lecturer in law and theology at Uganda Christian University. The university, an institution of the Anglican Church of Uganda, is the first accredited private university in Uganda and home of the first private law school in Uganda whose students are qualified to join the bar. As general counsel, he advised the university on a wide range of matters, including labor and employment, construction law, litigation, taxation, joint ventures, and real estate. His most important legal accomplishment was his significant participation in the university's successful application for recognition as a tax-exempt organization, which represented a significant advance in Ugandan tax law.
Ms. Levin is a Waynesboro, VA native who joined Wharton Aldhizer & Weaver in 2006 after completing a two-year clerkship with the Honorable Jerome B. Friedman in the United States District Court for the Eastern District of Virginia in Norfolk, VA.
She practices in the firm's corporate and business areas of law. Her specialties include, but are not limited to, real estate matters, including residential to multimillion dollar commercial transactions, commercial law, formation of business entities and wills and trusts.
Whitney Levin received her juris doctor from the University of Tennessee College of Law and her Bachelor of Arts from Pennsylvania State University.
She is admitted to practice in Virginia and was named by the Virginia Business Magazine as one of Virginia's Legal Elite in 2007 in the Young Lawyer category. She was also recognized as one of Virginia's Legal Elite from 2008-2011 in the area of Real Estate/Land Use. In 2010, she was named as a Virginia Rising Star.
Wharton Aldhizer & Weaver PLC is a full-service law firm with offices in Harrisonburg, Staunton, and Lexington. The firm serves individuals and businesses in the Shenandoah Valley and the Mid-Atlantic states in the areas of: bankruptcy, commercial and civil litigation, corporate finance, employment law, health care law, intellectual property matters, real estate and land use, tax planning, wills, estate planning, and administration.
Founded in 1845, the law firm of Wharton Aldhizer & Weaver, PLC has more than 160 years of practicing experience. For more information about the firm, please go to http://www.wawlaw.com or call 540-434-0316.
###