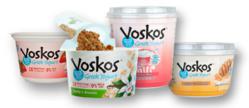 Although the packaging has changed, the product hasn't. It's still the same high quality product, with a wonderfully thick and creamy texture and delicious taste
Sun Valley, CA (PRWEB) January 12, 2012
Voskos Greek Yogurt—America's first nationally-distributed Greek Yogurt brand—is introducing a new cup design to make the product easier to enjoy.
The new design features a wider mouth and lower profile. Voskos marketing manager Emily Neukircher explains, "So many of our customers buy our plain and flavor varieties of Greek yogurt and add their own goodies. Customers add healthful sweeteners like stevia, and delicious additions like berries, fruits, nuts, granola and other stir-ins. This new cup design makes it much easier to incorporate your own yummy additions."
The lower-profile packaging also makes the Greek yogurt containers easier to stack in the refrigerator. In addition to its larger mouth, the new Voskos Greek Yogurt cup also features a new printing technology for a clearer and sharper look.
Although the packaging has changed, says Neukircher, "the product hasn't. It's still the same high quality product, with a wonderfully thick and creamy texture and delicious taste. The container still remains environmentally friendly by being recyclable."
Voskos Greek Yogurt has been recognized in awards contests presented by Fitness magazine, Women's Health, Vegetarian Times, Natural Solutions, Self Magazine and Cooking Light magazine. Visit Voskos' Web site for dozens of Greek yogurt recipes for low-carbohydrate breakfasts, appetizers, entrees and snacks.
About Voskos Greek Yogurt
Award-winning for its thick, rich taste and nutritional value, Voskos Greek Yogurt is all-natural, hormone-free, gluten-free, and Kosher certified. Through Voskos' proprietary ProStrain™ method, Voskos yields two times more protein, more probiotics, less lactose, and a thicker, creamier consistency. Voskos is the only brand to offer an organic Greek yogurt line in addition to its all-natural plain and blended flavors and never has "fruit on the bottom." Available nationwide, retailing between $1.49 - $2.99 in such stores as Kroger, Safeway, Publix, Bi-Lo, Whole Foods, Sprouts, and more. For store locations, and to download a coupon, visit Voskos.com or Facebook.com/Voskos.Greek.Yogurt today.
###