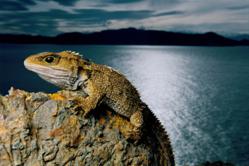 Baltimore, Md. (PRWEB) January 13, 2012
Music Director Marin Alsop will lead the BSO in Baltimore native Philip Glass' visually and audibly captivating LIFE: A Journey Through Time on Friday, January 27 at 8 p.m. and Sunday, January 29 at 3 p.m. at the Joseph Meyerhoff Symphony Hall and Saturday, January 28 at 8 p.m. at the Music Center at Strathmore. A multimedia, collaborative project, LIFE: A Journey Through Time features breathtaking photographs from National Geographic photographer Frans Lanting, hailed as one of the greatest nature photographers of our generation. This groundbreaking multimedia composition will be paired with another symphonic celebration of nature, Beethoven's "Pastoral" Symphony, which evokes scenes from "country life" such as Merry Gathering of Country Folk and Thunderstorm. Please see below for complete program details.
Running in conjunction with the Orchestra's presentation of LIFE: A Journey Through Time, the BSO will showcase local students' art, literature and science displays in the lobby of the Joseph Meyerhoff Symphony Hall in an exhibit celebrating the beauty and diversity of nature. The exhibit will open on Thursday, January 26 and remain on display through the duration of the concert series. More details about this exhibit will be announced at a later date.
Music Director Marin Alsop, nationally recognized for her commitment to new music and collaborative projects, was first approached by renowned National Geographic nature photographer Frans Lanting in winter of 2004 about creating a multimedia project that combined his photos with symphonic music. Alsop, along with other leaders from the Cabrillo Festival of Contemporary Music, facilitated a partnership between Lanting, the prolific and innovative composer Philip Glass, and visual choreographer/video editor Alexander Nichols. Less than two years later, Maestra Alsop conducted the premiere of LIFE: A Journey Through Time at Cabrillo, and in 2007 she and the BSO presented the East Coast premiere, which was hailed as "a feast for both eyes and ears" by The Washington Post. This January, Frans Lanting's visual insights about life on earth will again be featured in tandem with one of Philip Glass' most elegant compositions.
Beethoven adored nature and cherished leisurely walks through the forest. As he told his friend and student Therese Malfati, "No one can love the country as much as I do. For surely woods, trees, and rocks produce the echo which man desires to hear." It was this deep connection with the outdoors that led Beethoven to write his Symphony No. 6, "Pastoral." In striking contrast to his famed fifth symphony, "Pastoral" Symphony has a far more relaxed, content and blissfully untroubled character, from the simple harmonies in Movement 1, a cheerful arrival in the country, to the folk melodies found in Movement 5—a shepherd's song of thanksgiving after the storm.
Marin Alsop, conductor
Hailed as one of the world's leading conductors for her artistic vision and commitment to accessibility in classical music, Marin Alsop made history with her appointment as the 12th music director of the Baltimore Symphony Orchestra. With her inaugural concerts in September 2007, she became the first woman to head a major American orchestra. She also holds the title of conductor emeritus at the Bournemouth Symphony in the United Kingdom, where she served as the principal conductor from 2002-2008, and is music director of the Cabrillo Festival of Contemporary Music in California.
In 2005, Ms. Alsop was named a MacArthur Fellow, the first conductor ever to receive this prestigious award. In 2007, she was honored with a European Women of Achievement Award, in 2008 she was inducted as a fellow into the American Academy of Arts and Sciences and in 2009 Musical America named her "Conductor of the Year." In November 2010, she was inducted into the Classical Music Hall of Fame. In February 2011, Marin Alsop was named the music director of the Orquestra Sinfônica do estado de São Paulo (OSESP), or the São Paulo State Symphony Orchestra, effective for the 2012-13 season. Ms. Alsop was named to Guardian's Top 100 Women list in March 2011. In 2011, Marin Alsop was named an Artist in Residence at the Southbank Centre in London, England.
A regular guest conductor with the New York Philharmonic, The Philadelphia Orchestra, London Symphony Orchestra and Los Angeles Philharmonic, Ms. Alsop appears frequently as a guest conductor with the most distinguished orchestras around the world. In addition to her performance activities, she is also an active recording artist with award-winning cycles of Brahms, Barber and Dvořák.
Marin Alsop attended Yale University and received her master's degree from The Juilliard School. In 1989, her conducting career was launched when she won the Koussevitzky Conducting Prize at Tanglewood where she studied with Leonard Bernstein.
Frans Lanting, photographer
Frans Lanting has been hailed as one of the great nature photographers of our time. His influential work appears in books, magazines, and exhibitions around the world. For three decades he has documented wildlife from the Amazon to Antarctica to promote understanding about the Earth and its natural history through images that convey a passion for nature and a sense of wonder about our living planet.
Lanting's work has been commissioned frequently by National Geographic, where he served as a Photographer-in-Residence. In 2006, Lanting launched The LIFE Project, a lyrical interpretation of the history of life on Earth, as a book, an exhibition, a website, and a multimedia orchestral performance with music by Philip Glass. The multimedia production of LIFE premiered in Santa Cruz, California, in 2006 and is currently touring North America and Europe.
Lanting's books have received awards and acclaim: "No one turns animals into art more completely than Frans Lanting," writes The New Yorker. His books include LIFE: A Journey Through Time (2006), Jungles (2000), Penguin (1999), Living Planet (1999), Eye to Eye (1997), Bonobo (1997), Okavango: Africa's Last Eden (1993), Forgotten Edens (1993), and Madagascar, A World Out of Time (1990). Lanting serves on the National Council of the World Wildlife Fund and on the Chairman's Council of Conservation International, and he is a Trustee of the Foundation Board of the University of California Santa Cruz. Lanting has received numerous awards for his work, including top honors from World Press Photo, the title of BBC Wildlife Photographer of the Year, and the Sierra Club's Ansel Adams Award. He has been honored as a Fellow of the Royal Geographic Society in London and is a recipient of Sweden's Lennart Nilsson Award. In 2001 H.R.H. Prince Bernhard inducted him as a Knight in the Royal Order of the Golden Ark, the Netherlands' highest conservation honor.
COMPLETE PROGRAM DETAILS
BSO Classical Concert: LIFE: A Journey Through Time
Friday, January 27, 2012 at 8 p.m. – Joseph Meyerhoff Symphony Hall (JMSH)
Saturday, January 28, 2012 at 8 p.m. – Music Center at Strathmore
Sunday, January 29, 2012 at 3 p.m. – JMSH
Marin Alsop, conductor
Beethoven: Symphony No. 6, "Pastoral"
Philip Glass: LIFE: A Journey Through Time
Tickets range from $28 to $88 and are available through the BSO Ticket Office, 410.783.8000 or BSOmusic.org.
###