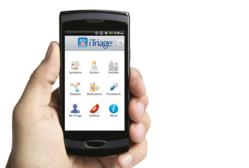 Partnering with iTriage complements our focus on providing more information about the services we offer, and helps our patients quickly and conveniently obtain medical information
Indianapolis, IN and Denver, CO (PRWEB) January 12, 2012
Indianapolis Gastroenterology and Hepatology (Indy Gastro) is reaching out to the growing number of smartphone users through a partnership with iTriage® – a free healthcare app that lets users instantly access medical and physician information.
According to the latest Nielsen survey, more than 40% of Americans now own a smartphone, and the number of people using their mobile devices to access healthcare information online is growing daily. iTriage is available as a free download through app stores for iPhone® and Android™ smartphones; all other Web-enabled devices can access iTriage at http://www.iTriageHealth.com.
Partnering with iTriage enables physicians at Indy Gastro to connect with patients at their time of medical need by providing them with detailed information about their backgrounds, capabilities and areas of specialization. iTriage also lets users do the following:

Research symptoms and conditions
Learn about possible causes
Obtain medication information for treatment of a specific condition
Access Indy Gastro information such as physician profiles, services provided, hours of operation and turn-by-turn directions using GPS capabilities
"At Indy Gastro, we are proud to offer the most advanced mobile technology to the residents in our community," said Jim Turner, CEO Indy Gastro. "Partnering with iTriage complements our focus on providing more information about the services we offer, and helps our patients quickly and conveniently obtain medical information."
About Indianapolis Gastroenterology & Hepatology
Indianapolis Gastroenterology and Hepatology is a progressive 14 physician practice located on the south side of Indianapolis. With a mission to provide excellence in clinical care, Indy Gastro incorporates family-centered values, state of the art technology, and a spirit of compassion that encompasses all that it does. The practice has its own on-site endoscopy center which is joint ventured with a local Hospital system and has clinical privileges at multiple Indianapolis based hospitals. For more information visit http://www.indygastro.com.
About iTriage, LLC
Headquartered in Denver, CO and co-founded by two emergency medicine physicians, iTriage offers a unique Symptom-to-Provider™ pathway that empowers patients to make better healthcare decisions. iTriage helps people answer the two most common medical questions: "What condition could I have?" and "Where should I go for treatment?" Millions of consumers around the globe have downloaded iTriage on their mobile devices and thousands of healthcare providers use iTriage to reach and communicate critical facility and service information to patients. For more information, please visit http://www.iTriageHealth.com.
###