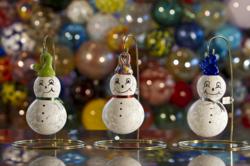 Corning, NY (PRWEB) January 11, 2012
The Corning Museum of Glass glitters with a blizzard of glass snowmen, guaranteed not to melt! Visitors of all ages can enjoy a Make Your Own Glass Snowman experience or a visit with the life-sized snowman (and his family). The GlassMarket also has a variety of glass snowmen available for purchase.
The following experiences are available through February 29, 2012.

Make Your Own Glass Snowman
Stay warm this winter making your own snowman from molten glass. Open to all ages, this experience allows you to work with hot glass up close, while staying on the cool end of the glassblowing iron at all times. You'll start by choosing the glass colors you want to use, and then partner with our professional glassblowers to create your unique glass snowman. All ages; $27 per experience. Additional Make Your Own Glass experiences are available for all ages. Visit http://www.cmog.org/myog for more information or to schedule an experience.
See the Life-Sized Snow Couple
Don't miss the 6-foot-tall snowman and woman, made by Hot Glass Show glassmaker George Kennard and team. On view in the GlassMarket. No admission fee for viewing. Great photo opportunity!
Snowmen in the GlassMarket
The Museum's GlassMarket gift shop features an array of handmade snowmen sculptures in all shapes and sizes, an exclusive line of inexpensive snowman dishes and other snowman-themed items for the home.
The Corning Museum of Glass is home to the world's most comprehensive and celebrated collection of glass, with more than 45,000 objects reflecting 3,500 years of glassmaking history. An independent, non-profit, educational institution, the Museum is dedicated to the art, history, science, research and exhibition of glass. Call (607) 937-5371 for more information.
The Museum is open daily 9:00 a.m. – 5:00 p.m. (and open until 8:00 p.m. Memorial Day weekend to Labor Day). Adult admission to the Museum is $15.00; kids and teens 19 and under, receive free admission. Local residents with ZIP codes beginning with 148, 149, or 169, pay only a $6 admission fee to enjoy all the Museum has to offer. Proof of residency is required.
###