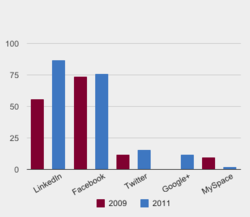 From joining professional groups, to researching prospective employers, to announcing a job search as a status update; there is no limit to the ways social networks can help a job seeker in their search.
Alpharetta, GA (PRWEB) January 13, 2012
A recent survey from MedReps.com finds the popularity of social networks continues to increase - at least among healthcare sales job seekers. The 2011 Social Networking Survey Report reveals 94% of respondents are members of at least one social network, up from 89% in 2009. While Facebook may have more members globally, medical sales professionals prefer LinkedIn. In a significant increase from the 2009 data, 87% of respondents have a LinkedIn profile (up from 56% in 2009) while 76% belong to Facebook (slightly up from 74% in 2009).
The heightened interest in LinkedIn reflects the broader shift in trends and perceptions surrounding social networks in the professional realm. No longer simply tools to casually connect with friends, classmates, and colleagues, social networks are increasingly becoming job search tools. In fact, 1 in 4 survey respondents reported their activity on a social network had led to a medical sales job offer, but how exactly are they doing it?
The 85% of respondents who reported using social networks professionally offered up a variety of ways to use the tools. From joining professional groups to researching prospective employers to announcing a job search as a status update; there is no limit to the ways social networks can help a job seeker in their search. On the other hand, there are also ways social networks can harm a job search. Just as job seekers can use social networks to research an employer, hiring managers and recruiters may use social networks to research a candidate, so it's especially important for job seekers to make smart choices regarding their privacy settings. While 89% of respondents expressed concerns about online privacy, their fears certainly haven't stopped them from embracing social networks for the powerful job search tools they are.
Read the full Social Networking Survey Report on MedReps.com.
MedReps.com gives members access to the most sought after medical, pharmaceutical, and biotech sales jobs on the web. Candidate members have access to more than 8,000 jobs and can apply directly to the recruiters and hiring managers who post them. For more information on the leading site for pharmaceutical and medical sales, marketing, and management careers please visit MedReps.com.
MedReps.com is owned and operated by Healthcare Staffing Technologies (HST), a member of the Jackson Healthcare family of companies. The HST portfolio includes innovative sites for therapy jobs, nursing jobs, and medical sales jobs. For more information call 866.619.1629.
###