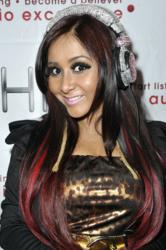 "I am very excited for my new partnership with iHip and to get started on creating my very own headphone line. I think iHip does the best headphones, they make it different and I like to be different."
Las Vegas, NV (PRWEB) January 11, 2012
With a wildly popular reality show, two books, her own signature perfume, slippers, tanning lotion, lashes, boots, sandals and smart phone apps under her belt, Nicole "Snooki" Polizzi is now creating buzz in a brand new area combining her love for dancing and house music into her next endeavor; headphones. Officially launching at CES, Las Vegas January 10th, 2012 the products will showcase her two signature styles, animal print and "bling". Joining the iHip team for the first time this January, Nicole "Snooki" Polizzi will be at the iHip booth signing autographs, taking pictures and showing off her new line at this year's show.
Joining the ranks of other celebrities such as Lady Gaga and Dr. Dre, Nicole "Snooki" Polizzi will enter the electronic accessories scene with her own high-quality audio gear with iHip. Guaranteed to please guidos and guidettes all over the world, Nicole "Snooki" Polizzi's personally designed accessories will offer not only booming bass and noise-cancelling effects, but also all the personality and attitude of The Jersey Shore darling herself. Nicole "Snooki" Polizzi's stylish lineup will include headphones, ear buds, and portable speakers featuring her distinctive style such as rhinestones and animal prints. Perfect for listeners of any age and taste, iHip serves a multi-functional purpose, combining stellar acoustics with tricked-out personalized style. Snooki brings a fresh personality and youthful perspective to the iHip line.
About Nicole "Snooki" Polizzi
Equal parts pop-culture personality and entrepreneur, Nicole "Snooki" Polizzi is best known for her role on the widely-talked-about reality TV show The Jersey Shore. She is a 4-foot-9-inch firecracker who proudly shows off the lifestyle of being a "guidette." In addition to her success on TV, Nicole became a best-selling author with her book, "A Shore Thing." Her second book, "Confessions of a Guidette," is now available in stores. Nicole has also launched a line of fashion and beauty accessories ranging from footwear and handbags to sunglasses, fragrance, lashes and indoor tanning lotions. Her first mobile apps available now for Apple and Android devices. With an impressive following on Facebook and Twitter, Snooki entertains her devoted fans daily.
About iHip
iHip has been delivering fashion and function in a variety of audio accessories for well over a decade. The stylish iHip collection just made audio accessorizing even more fun with the most popular sports and entertainment properties! Introducing licensed audio accessories and portable electronics made by iHip! Our licensed brands include the National Football League, Major League Baseball, NASCAR, NHL, CLC, DC Comics, Kraft, Discovery and Marvel Comics. iHip products can be found at Best Buy, Modell's Sporting Goods and Sports Authorities or online at http://www.ihip.com.
Contact Information:
For iHip: Jacqueline Giaccio and Amanda Breault
jacqueline(at)wunderlichinc(dot)com, amanda(at)wunderlichinc(dot)com
(212) 219 0230
For Nicole "Snooki" Polizzi: Stacey Wechsler
Stacey(at)hiredgunpublicity(dot)com
###