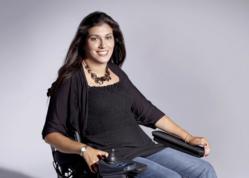 I'm excited to seize the opportunity being a finalist in this contest provides to raise awareness and funds for stem cell research. I want everyone to "Click the Vote" and get their friends and family to do the same every day they can!"
Miami Bieach, FL (PRWEB) January 12, 2012
Sabrina Cohen is one of 25 finalists vying for a $50,000 grand prize in the inaugural "America Inspired" contest that is seeking to discover extraordinary people making a difference in their community.
A Miami Beach native, Sabrina, 34, is the executive director of the Sabrina Cohen Foundation for Stem Cell Research, an internationally recognized nonprofit organization dedicated to spreading awareness and raising funds for stem cell research.
Her contest bio aptly sums up Sabrina's combined zest for life and the cause: "Sabrina Cohen has performed stand-up comedy from a wheelchair, rolled the catwalk as a fashion model, and donned scarcely more than a bikini's worth of body paint, all in the name of raising money for medical research."
"She's also lobbied Congress, hobnobbed with Bill and Hillary Clinton, strategized with Michael J. Fox, and has proved an inspiration to Dr. Sally Temple, winner of a MacArthur genius grant for her work as a neuroscientist."
The 25 finalists were selected by a panel of judges from 900 nominations.
"I am so honored that Examiner.com chose to include my work in this contest and thrilled to be among these outstanding finalists. I'm excited to seize the opportunity being a finalist in this contest provides to raise awareness and funds for stem cell research. I just want everyone to "Click the Vote" and get their friends and family to do the same every day they can!" said Cohen.
Sabrina is competing in the "Overcoming Adversity" category, which is one of five categories in the contest. In nominating Sabrina, Miami Health Examiner Charlotte Libov said, "Sabrina is the best example I know of someone who has not only overcome adversity, but has put it to good use. She calls her wheelchair 'a vehicle to promote change,' but it is also her vehicle of providing hope. I know of no one who exemplifies hope more than Sabrina."
Sabrina will host a "Click the Vote" registration and voting party on Saturday, January 21, 2012 at the new South Beach hotspot, Chalk, from 9 – 11pm.
To vote one simply registers or logs-in at Examiner.com and follow the links.
About the America Inspired Contest
"I'm very excited about this contest," stated Ashish Kapur, chief operating officer at Examiner.com, in a recent interview with USA Today. "It's a chance to expose individuals who are doing a lot of great stuff in their local communities who you often don't hear about in the broad media. We hope that by surfacing these stories, we can inspire others to help them."
The competition was open only to the approximately 55,000 writers who contribute to Examiner.com. In addition to writing for Examiner.com, Libov, who also lives on Miami Beach, is the award-winning author of several health books, and a journalist who writes for numerous other health publications and websites.
Internet voting is now underway and the top-voter in each category will be designed the runner up. Each of the four runners-up will receive $10,000, and the top overall vote getter will be awarded the $50,000. Voting commenced on Jan. 9 and continues until Jan. 27. Winners will be announced Feb. 1. The other categories are "Leadership" "Passion," "Sacrifice" and "Outstanding Youth."
About Sabrina and the Foundation
Since starting the Sabrina Cohen Foundation for Stem Cell Research in 2006, Sabrina has raised $75,000 in grants for the nation's top stem cell research since it was established in 2006. Her foundation, which is dedicated to building a global network of top scientists and clinicians engaged in stem cell research, after she learned about the therapy and its potential for not only reversing paralysis, but also treating stroke, Alzheimer's disease, Parkinson's disease, multiple sclerosis and many other devastating disorders.
Left a quadriplegic after a car crash when she was 14, Sabrina is now an effective fundraiser and electrifying motivational speaker in demand for her talks everywhere from elementary schools to institutions such as Harvard University, Baylor College of Medicine, and even the United Nations. Two years ago, she was named an "American Health Hero" by WebMD the Magazine.
Every year the Foundation raises through local fundraising events, merchandise sales, and its annual "CELLebrity" Doctors Calendar, now in its second year and sponsored by DMR and RegenerativeMedicineJobs.com.
Designed to raise public awareness about stem cell research, the 2012 Calendar of "CELLebrity" Doctors captures some of the leading females in science around the world involved in advancing stem cell research, from the United States, Canada, Australia and Europe.
###