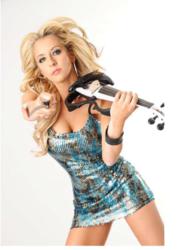 Indianapolis, Ind. (PRWEB) January 12, 2012
Yamaha Artist Services Indianapolis is pleased to announce the signing of Nina DiGregorio, founder, lead violinist and musical arranger of the innovative rock quartet Bella Electric Strings. A pioneer of the electric violin, DiGregorio plays and owns a diverse arsenal of Yamaha electric string products, including the Yamaha SV-255. DiGregorio's illustrious career started at age six, with classical piano training that soon morphed into a lifelong love of stringed instruments. Her impressive talent led to her first concert solo at age 14, which she performed with the Niagara Symphony Orchestra. DiGregorio obtained a Bachelor of Music from the State University of New York at Buffalo, where she served as concertmaster for the university's orchestra and earned numerous coveted solo appearances. She also obtained an MM in violin.
Her fascination and experimentation with electric instruments like the Yamaha Silent Violin led to ongoing engagements as a traveling demo specialist, educating orchestra directors and students on the uses, techniques, sound effects and potential of these new tools.
"The one thing I wish I'd had when I was younger is an early knowledge of electric instruments," recalls DiGregorio. "Their versatility is unparalleled and they inspire a higher level of creativity. They're also incredibly practical," she says, adding that the Silent Violin eliminates feedback issues associated with hollow bodied instruments. In addition, electric instruments allow her to move freely around a stage, can be used with pedals and offer better control of the sound.
According to DiGregorio, proficiency with Silent instruments can also expand an artist's professional horizons. "When you consider how limited the opportunities are in terms of making a living in music, it makes sense to make yourself as marketable as possible," she notes, adding, "you've got to be well-versed in many different genres of music, as well as to sight read and improvise, particularly in rock and jazz."
A self-proclaimed "accidental entrepreneur," DiGregorio founded and currently fronts Bella Electric Strings, a highly successful performing ensemble. Initially conceived as a single group, Bella became so popular that DiGregorio created a second group, both of which have busy performance schedules, sometimes gigging three or four times a day. To fuel this hectic performance activity, DiGregorio relies on her collection of Yamaha instruments – two electric cellos, two silent violins and five electric violins, citing their outstanding quality, durability and reliability.
Working as a solo artist and with her bands, and armed with her Yamaha instruments, DiGregorio has performed with legendary entertainers, including Jay-Z, Michael Buble and The Killers and recently performed for President Obama. Next up for DiGregorio and Bella Electric Strings is a scintillating album with original music combining both rock and classical tunes.
For more information, write Yamaha Corporation of America, Band & Orchestral Division, Division, P.O. Box 6600, Buena Park, CA 90622, telephone (714) 522-9011, email infostation(at)yamaha(dot)com or visit http://www.yamaha.com.
About Yamaha
Yamaha Corporation of America is the largest subsidiary of Yamaha Corporation, Japan and offers a full line of musical instruments and sound reinforcement products to the U.S. market. Products include: acoustic and digital pianos, portable keyboards, guitars, acoustic and electronic drums, band and orchestral instruments, marching percussion products, synthesizers, professional digital and analog audio products, and innovative technology products targeted to the hobbyist, education, worship, professional music, and installation markets.
###