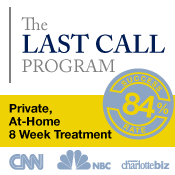 There is no maintenance program, no falling off the wagon, and no more fear of living with this issue for the rest of your life.
(PRWEB) January 26, 2012
Research has proven that attacking alcohol use disorder and alcoholism at the source of the problem is more effective than conventional forms of treatment. The Last Call Program is scientifically proven to restore the chemical imbalance in the brain that causes alcohol dependency. In 2012, people are becoming more and more fed up with conventional forms of treatment for alcohol dependency after trying to maintain a constant level sobriety and failing. Instead, they are starting to look at new and innovative ways of treating alcohol-related problems that will keep them sober for good. At-home treatments like The Last Call Program are now rising in popularity and offer several clear benefits over the outdated alternatives.
Treating a person for alcohol addiction is a serious issue that if gone unchecked can lead to a whole slew of medical problems, including cardiovascular disease, alcoholic liver disease, various cancers, and, in cases of chronic alcohol abuse, damage to the central nervous system. It is not surprising then that many people feel the need to seek the best form of treatment when they or somebody within their family presents signs of being an alcoholic, regardless of the cost. There are many different types of treatment that people can now use to seek sobriety, but not all of these treatments are effective for everybody, and just because it costs more does not mean that it is better.
Some conventional treatments, such as rehabilitation centers, come with huge costs attached and are better suited for people who are already on the edge of losing it all from addiction. Clearly, this option is only good use for a select number of cases, but for people who are just starting to notice a developing habit and want to nip it in the bud before it turns into a full-blown addiction, there are several other options.
The Last Call Program is a new and innovative form of treatment for alcohol addiction that works for everybody. Recent scientific studies have shown that alcohol dependency arises from a chemical imbalance in the brain that comes about from drinking too much. The Last Call Program specifically targets that chemical imbalance with its proprietary compound Sobrexa, and has shown to greatly reduce cravings for alcohol regardless of a person's level of dependency. The effects of Sobrexa have been widely tested in over thousands of case studies, and 84% showed a complete reversal in cravings.
For people who may have already tried conventional forms of treatment and failed, The Last Call Program is an affordable solution that can completely restore chemical balance and well being in participants in under 8 weeks. It can be taken completely at-home, which some people will prefer to the very open nature of group meetings and treatment centers.
Many people continue to battle the same problems over and over again when it comes to alcoholism. Albert Einstein defined insanity as 'doing the same thing over and over again and expecting different results.' When people become addicted to alcohol, it is natural to want to try and recover through treatments that are more widely known. If alcoholics are to truly recover without fear of relapse, however, they should consider carefully their own specific restrictions and requirements before choosing the best treatment for them. In that way, they can start thinking positively about their health in the future.
###