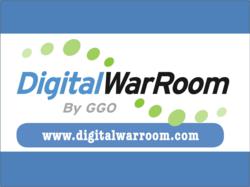 "Digital WarRoom makes mainstreaming a reality, with software that is easy for a beginner to learn and use, but can scale up to accommodate the largest, most complex cases."
Seattle Washington (PRWEB) January 11, 2012
Gallivan, Gallivan and O'Melia (GGO, LLC), the e-discovery experts driving the move toward accessible, affordable e-discovery solutions took note of the emerging market for mainstream e-discovery tools, and have reaffirmed their commitment to serving medium and smaller matters with e-discovery software that is user-friendly and cost efficient.
"Our introduction of affordable desktop and multi-user versions of Digital WarRoom in 2011 was met by a wave of interest, and discussion surrounding the 'Mainstreaming of E-Discovery' surfaced in the legal field", said Barry O'Melia, head of product operations at GGO. "Bruce Olson and Tom O'Connor profiled the e-discovery process for smaller matters at the ABA Tech Show in the spring of 2011 to a full house of solo practitioners, attorneys from small and large firms, and litigation support professionals. Clearly the topic struck a chord."
A small or medium-size matter (estimated to account for more than 70% of all matters filed in US Courts) is often defined as having a mix of fairly standard business documents and e-mail, in review volumes of 500GB or less. In the old traditional e-discovery pricing models, the cost to process, review and produce this volume of ESI could drive total discovery costs to nearly $1 million, in many cases far outpacing the value of the claim. So e-discovery has been relegated only to the relatively larger matters with high financial stakes. In 2011, the high cost and lack of transparency in e-discovery pricing emerged as a hot topic in the industry.
Added to the cost pressure, a sea change is happening in the courts. E-discovery is 'mainstreaming' among judges at the same time it's happening with law firms and service providers. As organizations such as Sedona Conference and the E-Discovery Institute educate us all, the state courts are adopting e-discovery rules that mandate parties to litigation to understand and competently address the identification, collection, processing and delivery of responsive ESI.
"Digital WarRoom makes mainstreaming a reality, with software that is easy for a beginner to learn and use, but can scale up to accommodate the largest, most complex cases. Law firms or corporate legal teams can standardize on a single solution for an entire portfolio of matters", said O'Melia, "and then choose to manage a case in a desktop PC application, on a network server, or host it on our secure SaaS platform. The application and features are consistent across all versions of the product."
About Digital WarRoom
In 2011, Gallivan Gallivan & O'Melia announced two new products, extending Digital WarRoom technology in configurations for in-house use by corporations and law firms:

Digital WarRoom Pro, the first PC based product for e-discovery, allowing an individually licensed user to conduct complete e-discovery on a Windows computer, and
Digital WarRoom WorkGroup, a client-server application that allows corporate IT, in-house legal, or law firm e-discovery practitioners to manage e-discovery case data processing, document review and production without high priced volume-based processing.
DWR Remote™, a full-service hosted platform designed for distributed and virtual team access to case data. Ancillary services include custom data mining and predictive coding.
The Digital WarRoom platform is unique in its ability to create and save case data in a portable form. A case database created on any Digital WarRoom product can move seamlessly to any other Digital WarRoom product, with all attorney work product preserved. This unmatched flexibility allows organizations to cost effectively handle an entire portfolio of matters in-house, while retaining the option for full-service hosted review on larger, complex and global matters.
About GGO
Since its inception in 2002, GGO (Gallivan Gallivan & O'Melia LLC) has successfully completed over 3000 complex e-discovery matters. In 2011, GGO introduced the Digital WarRoom® line of software products, spanning the entire e-discovery lifecycle from capture through processing, review, and production. Customized services include M&A target data preservation and internal data mining and investigations. Headquartered in Seattle, GGO offices are located in New York, Santa Clara, San Francisco, Dallas, Los Angeles, and serves all metropolitan markets in North America. Leading global corporations, Fortune 1000 companies, Am Law 100 law firms, and government agencies, including the Library of Congress, rely on GGO for robust technology and personalized service. To learn more about GGO, visit http://www.digitalwarroom.com
# # #