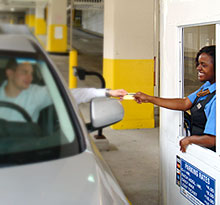 This is an exciting addition to our portfolio with Tishman Speyer...
Boston, MA (PRWEB) January 13, 2012
One Parking, a parking management company based in West Palm Beach, Florida announced today its award of a 5 year lease of the One Federal Street parking garage located in the Financial District of Boston. Two years ago, One Parking expanded into the Boston market securing a leasehold on the 125 High Street garage and hiring veteran parking executive Ed Crean. Crean, is One Parking's business leader in Massachusetts and will act as the local point person for Landlord Tishman Speyer.
One Parking was awarded the new location after a competitive bid process of several national and regional parking operators. The award was based on several criteria, including items such as revenue generation, service, and facility image and appearance. The One Federal Street garage contains 240 spaces and services a 1 million square foot office tower that is undergoing a significant renovation. One Parking's CEO, Greg Susick said "We plan to perform modifications to the garage that will align the efforts of the owner with the garage operation. This is an exciting addition to our portfolio with Tishman Speyer properties, one of the preeminent owner's of Real Estate in the world. "
The successful takeover of the facility occurred on New Year's Day along with the addition of two garages in downtown Denver on the same date for LBA Realty. The takeover of these three assets added approximately 3000 spaces to the portfolio, expanded the company's operations into the Colorado market and extended relationships with two major real estate companies.
Founded in 2004, One Parking is owned and operated by a team of professionals with a combined 50 plus years of parking management experience. The Company operates in 12 cities providing operational expertise in parking management, valet parking, asset management, leasing of properties, shuttle operations, concierge services and consulting. It provides services for several large commercial property owners internationally including The Related Companies, Tishman Speyer, Mubadala and the Federal Government.
For more information, please visit http://www.oneparking.com
###