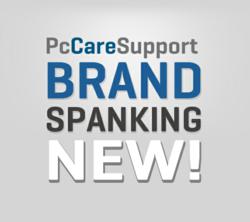 No matter the business, consumers feel more comfortable if they know and trust the people they are working with.
Provo, UT (PRWEB) January 18, 2012
With the exponential growth of PcCareSupport over the last year, our company has just released a new interactive website to show customers and competitors that PcCareSupport means business and can surpass your needs. The new site creates a base for consumers to network with U.S.-based technicians, participate in direct desktop sharing, stay updated on the latest packages and so much more.
PcCareSupport technicians have been working hard to make the new website as user-friendly as possible no matter the customers' technology background. With videos, pictures and images, our company's goal is to help consumers get to know us as skilled technicians, small business/residential experts and people based right here in the United States.
No matter the business, consumers feel more comfortable if they know and trust the people they are working with. We at PcCareSupport have gone to great lengths to help our current and potential clients understand exactly who we are and what we can do for them.

Participate in online chats with our technicians.
Contact our office directly with any question.
Read the real-life experiences our current customers have had with our company.
Learn about the U.S.-based technicians individually (their educational background, hobbies and experience).
Participate in new package deals.
Look into becoming one of our talented technicians and being a part of this rapidly growing company.
With so many businesses dependent on updated and virus-free technology, there are many computer-support companies who want your money. However, PcCareSupport has shown through loyal customers and growing business, that we offer the best support to both small businesses and individuals alike. Many computer-support companies offer their services to businesses and then employ offshore technicians. PcCareSupport is built upon local technicians who specialize in IT and are readily available to answer your questions. Our company seeks to build a relationship of trust and longevity, which is why PcCareSupport offers numerous packages to fit any budget and any number of services that our customers require. We realize that each company or individual has different support needs and our technicians are willing to work with you to come up with your best plan.
PcCareSupprt delivers results and our new website is re-designed to help each of our customers get exactly what they need. Whether you are looking to explore our company, have detailed questions or simply want to check out which technician is working on your computers, our interactive website has all your answers.
About PcCareSupport: 
PcCareSupport was founded in 2010 with the belief that small businesses and home users should have access to US-based, proactive computer support services. Since then PcCareSupport has become one of the leading forces in the remote technical support industry. We have accomplished this by proactively maintaining and supporting technology for the consumer, small business and distributed environments.  
Services: http://www.pccaresupport.com/services
Testimonials: http://www.pccaresupport.com/testimonials
###