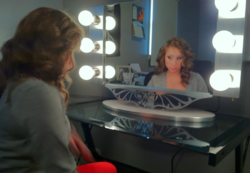 West Hollywood, CA (PRWEB) January 12, 2012
Vanity Girl Hollywood, based in Los Angeles, CA celebrated a successful holiday season and announced a 50% increase in sales compared to 2011.
"Women throughout the country did a great job of dropping hints," laughs founder Maxine Tatlonghari. "Our sales team was very busy ensuring that orders were fulfilled and that Hollywood vanities were loaded onto the trucks daily."
The most popular models were the tabletop vanities that allow a customer to transform almost any desk or table into a backstage-style prep area.
"Love my Christmas surprise from my awesome husband!" said Sara W. from Indiana via the brand's Facebook page on January 1, 2012. She received a Silver Starlet Table Top Vanity from her loved one. This model comes in black, silver and glossy white.
About Vanity Girl Hollywood:
Launched in 2008 by fundraiser-turned-entrepreneur Maxine Tatlonghari (after a surprise lay-off), the brand quickly became a celebrity darling, lighting up the faces of famous beauties like Carrie Underwood, Jennifer Love Hewitt and Kim Kardashian. YouTube gurus such as Kandee Johnson, Makeup Geek and Emily Noel have also given the lighted mirrors their stamp of approval and major cosmetic brands are using the signature lighting in their YouTube studios and at events.
###