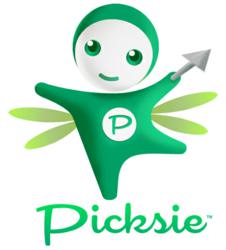 New York, NY, January 12th, 2012 (PRWEB) January 12, 2012
Picksie (http://www.picksie.com), a leading location-based discovery application announced today the official launch of their newest features and roll out plan for 2012. The service will now offer users the opportunity to create a list of favorite restaurants, cafes, bars and cinemas for easier access. They are also implementing bookmarks so that users can mark places while browsing Picksie 2.1. These new capabilities are just a preview of many that Picksie will be releasing in 2012.
While Picksie launched the 2.0 version in November, they have set a goal to build on the already outstanding line-up of features, beginning with version 2.1. January 31st will also be a significant date in Picksie's march to the top of the app world, when performances, concerts, sporting events and festivals will be added to the service. Users will have the option to purchase tickets directly through the application.
Picksie, which serves as a destination for discovering restaurants, cafes, bars, clubs, movies and other events that are catered to ones' personal preferences plans to raise venture capital funding Q3 of 2012.
"We are excited to reveal the Picksie line-up for 2012. This past year was great but we are looking to the future as a top player in the location-based app world," says Ajay Mohan, CEO, Picksie. "I strongly believe we are taking strides in the industry and will continue to push to create a new standard for location-based apps. Our goal is to help our customers maximize their experience in New York and San Francisco"
About Picksie
Picksie is a location-based discovery service optimized for iOS devices that answers the question "What can I do, right here, right now?" Picksie applies a user's profile, past ratings, searches and reviews, as well as current day, time and weather, to recommend events, activities and places of interest – such as restaurants, cafes, bars and cinemas. By creating a Picksie profile, users save time deciding what to do and receive instant recommendations that match their unique likes and location.
Picksie was founded by Ishi Systems, a product development firm delivering end-to-end technology solutions for enterprises as well as startups. Ishi has been developing enterprise, security and mobile solutions for its customers globally since 1994. The Company is headquartered in Jersey City, New Jersey. For more information on Picksie, check them out on Facebook or Twitter.
###