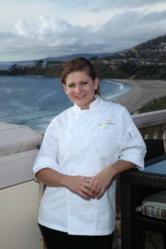 Dana Point, California (PRWEB) January 13, 2012
In celebration of the month of romance, RAYA Chef Marissa Gerlach and guest chef Richard Sandoval, host an Aphrodisiac Culinary Class Saturday, February 11. The demonstration-style class is $109 per person and will be presented from 11:30 a.m. to 1:30 p.m. Following the demonstration, guests will enjoy the five-course menu, along with the paired cocktails.
The menu highlights such aphrodisiacs as pomegranates, oysters, avocados, salmon, and of course, chocolate. Oysters are brimming with zinc, a mineral that cranks up the production of testosterone, which has been linked to a higher sex drive. The pomegranate owes its passion power to antioxidants, which protect the lining of blood vessels, allowing more blood to course through them. Salmon is packed with omega-3 fatty acids, which keep hormone production at its peak.
The Culinary Demonstration menu includes:
Hibiscus Water and Pomegranate Lime Champagne
Oysters on a Half Shell / Champagne Chipotle Mignonette
Salmon Tiradito / Pomegranate White Soy Ponzu / Mango / Wasibi Aioli
Avocado Gazpacho / Dungeness Crab / Caviar / Watermelon / Cucumber / Cilantro
Adobo Thai Prawns / Veracuzana / Pickled Poblano / Fufu / Tostones
Champagne Sabayon / Grapefruit / Almond Crunch / Cilantro
About Chef Marissa Gerlach
RAYA Chef Marissa Gerlach is passionate about the food she serves her guests. "Every product we use has a history, a story behind it. For instance, AquaFarm is a small local sustainable seafood farm in Southern California. I visited the facility where I learned so much about how using locally grown seafood not only offers the guests a much tastier product, but it helps lessen our carbon footprint," said Chef Gerlach. "It's this type of experience that brings a story to the food we create and enjoy," she added.
"Working with Chef Richard Sandoval, I have become very fond of unique ingredients such as Togarashi, an Asian seven spice, Huitlacoche, a sweet fungus that grows on corn, and Pilonillo, which is unrefined Mexican cane sugar that is smoky, caramel-like, and earthy all in one. Each week, my goal is to pair an ingredient like one of these with a fresh, seasonal product to create a new and unique dish. I present these dishes on the chef's tasting menu and the best ones find their way on the seasonal menu."
Chef Marissa joined the resort in April 2010 as a culinary supervisor on the pre-opening team of RAYA. With her creativity and passion for food she quickly became a key contributor in the success of the restaurant. Within six months, Chef Marissa was promoted to sous chef where she continued to influence and contribute to the creation of the daily and seasonal menus. She also played a pivotal role in RAYA being recognized as "Restaurant of the Year" by Riviera Orange County in July 2011. Prior to joining RAYA, Chef Marissa worked in kitchens of some of the best restaurants and hotels in California including Studio at Montage Laguna Beach under Chef James Boyce, Bardessono in Yountville, The Restaurant at Meadowood in Napa Valley under Chef Christopher Kostow, and Cyrus in Healdsburg under Chef Douglas Keane.
About Chef Richard Sandoval
Born in Mexico City, Richard Sandoval grew up surrounded by Mexican culture and food. His father, a successful restaurateur, instilled in him a passion for the cuisine of his heritage and the art of hospitality. After living in California, where Sandoval learned to appreciate the ingredients indigenous to the area, he enrolled at the Culinary Institute of America. Upon graduation, Sandoval returned to his father's kitchens, immersing himself in the cuisine of his homeland.
Back in the United States, his first restaurant Maya enabled Sandoval to introduce New Yorkers to the exciting, bold and flavorful foods that have become known as Modern Mexican, and it is Chef Sandoval who has redefined Mexican cuisine. Chef Sandoval now boasts thirteen restaurants that span the globe including Tamayo in Denver, Pampano in New York, Mexico City and Acapulco, Zengo in Denver and Washington DC, Isla in Las Vegas, LA Sandia in Denver and Virginia and Maya in New York, San Francisco and Dubai.
About The Ritz-Carlton, Laguna Niguel
The Ritz-Carlton, Laguna Niguel premiered as the first luxury resort along coastal Orange County in August 1984. Twenty-eight years later, the resort is a re-imagined surfside retreat that awakens guests' senses with its unique ocean-front setting and remarkable service heritage. The resort is the premiere destination for travelers who desire a playful approach to Southern California luxury. The resort has been the recipient of many awards over the years, but is proud to boast earning AAA Five Diamond status for the 27th year, the longest in California. The resort offers many extraordinary luxury experiences including Raya, 180blũ, The Market Place, Eno, Bar Raya, The Spa and Jean-Michel Cousteau's Ambassadors of the Environment. For more information or reservations call 800-241-3333, the hotel directly at 949-240-2000, a travel professional or visit the web site at http://www.ritzcarlton.com/laguna.
###