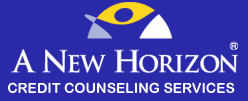 With the arrival of some positive economic indicators, and the desire for banks to offer new credit cards to increase their bottom line, consumers are embracing credit in growing numbers", said Steven Stark, COO of A New Horizon
Fort Lauderdale, FL (PRWEB) January 16, 2012
Credit card usage is poised to make a comeback in 2012, according to A New Horizon Credit Counseling Services, a non-profit agency that assists consumers with getting out of debt and repaying their credit cards. "Until last year, we observed a noticeable reduction in credit card use in favor of debit cards. With the arrival of some positive economic indicators, and the desire for banks to offer new credit cards to increase their bottom line, consumers are embracing credit in growing numbers", said Steven Stark, COO of A New Horizon Credit Counseling.
According to information provided by First Data, which processes credit card transactions for more than four million merchants, credit card purchases increased to 8.2%, 9% and 10.6% in the first, second and third quarter of 2011 respectively. Moreover, on Black Friday this year purchases made with credit cards jumped 7.4% from the same day last year, while debit card use rose only 3.4%.
Stark says, "This trend will only increase since the banks receive less revenue from debit cards with the recent 21 cent cap placed on it. The banks make more profit from a credit card transaction which returns them an average of 2% of the purchase. They also receive interest on the balance when the consumer carries a balance." This trajectory is confirmed by Javelin Strategy & Research who recently projected that online credit card use will advance 63% from
2011 to 2016, compared to a 2% increase in debit card use. According to Mintel Compermedia, a research firm, credit card solicitations have reached 1.3 billion in the third quarter of 2011 alone, having jumped 85% since January 2010.
Stark, whose company uses budgeting, credit counseling and a structured debt management plan to assist consumers in repaying their debt, said, "Our biggest concern is that credit card use does not return to "pre-recession levels". All of our clients, and consumers in general, have reduced credit card use during the last several years, and learned how to rely less on credit cards".
A New Horizon Credit Counseling Services is a nonprofit debt management organization that has been helping consumers since 1978. For more information about their programs, contact 1-800-556-1548. They can also be found on the web at http://www.anewhorizon.org, or reached via email at csmanager(at)anewhorizon(dot)org
###