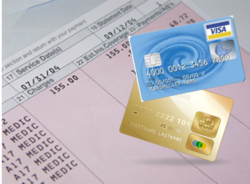 "According to the Health Care Blue Book, consumers can negotiate the cost of their health care."
Seattle, Washington (PRWEB) January 12, 2012
It is still the season for New Year's Resolutions focused on getting out of debt. Each year millions of people file bankruptcy or go into debt due to the overwhelming expense of medical care. Often this debt is hidden in the balances on credit cards. While it is understandable why someone would choose to pay this debt with a credit card, this form of debt consolidation can have many drawbacks and it may be possible to avoid it altogether and complete the resolution of getting out of debt. Below are some guidelines from American Financial Solutions on how to manage medical debt and avoid the high costs of debt consolidation on credit cards.
Know the Debt Ratio
One thing to consider when using a credit card to consolidate debt from medical bills is the amount of available credit remaining on the credit card. A significant factor of a consumer credit score is how much debt they have compared to their available credit limit. The ideal ratio is 30%. This means that at any given time someone should only be using 30% of their credit line or it will begin to negatively impact their score.
Know the Monthly Payments
Another consideration, before consolidating medical debt on credit cards, is the monthly minimum payments on the credit card. The reason for putting medical bills on a credit account is typically to make the amount of debt more manageable to repay, so consumers need to ensure that the new payment on their credit card is something they can afford.
Also, be sure to make all payments on credit cards on time. Missing payments can cause late fee penalties, an increase in interest rates, or both. It is important for people to review their budget and use an online calculator to estimate what their new payment would be. American Financial Solutions has a credit card calculator available online at http://www.myfinancialgoals.org under the AFS Education Resources tab.
Know About Other Resources
When deciding whether to pay the medical debt with a credit card, consider what other resources may be available to help pay the bill. These may include:
1. Developing a payment plan with the medical provider. Ask the provider if they will accept payments rather than one lump sum. Explain your financial situation and only promise to pay what you truly can afford. For instance, if you know you cannot send $200 a month, let them know how much you can send and be sure to follow through.
2. Negotiating the price of the medical treatment and associated services. A well kept secret about medical bills is that they may be negotiable. There are even websites that can help consumers determine the "fair market price," for specific services. One such site is Health Care Blue Book.
3. Requesting financial assistance such as charity care or coverage through a state medical program. Charity care is the common term used for a hospitals decision to write off or reduce the cost of hospital services. Charity care is based on income and family size.
One of the most frustrating positions to be in is when you want to pay a debt, but the only way you can afford to do so is by incurring new debt or making minimum payments. That extra burden can put people at serious risk for falling behind on debts or even for filing bankruptcy. Unfortunately, concern about medical bills may cause people to postpone medical care, which can result in the need for more expensive treatment when care becomes urgent.
You can learn more about managing medical bills and consolidating debt by visiting American Financial Solution's website.
American Financial Solutions (AFS) is a national non-profit financial education and credit counseling agency. In business since 1999, AFS helps people improve their financial lives through one-on-one counseling, financial education and plans for managing debt.
AFS is a member of the National Foundation for Credit Counseling (NFCC) as well as the Association for Independent Consumer Credit Counseling Agencies (AICCCA). AFS is also accredited by the Council on Accreditation (COA). For more information, please visit http://www.myfinancialgoals.org.
###