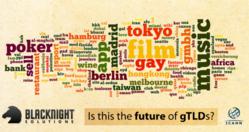 New domain extensions will greatly expand the possibilities for registering domain names and enhancing your online identity
Carlow,Ireland (PRWEB) January 12, 2012
Irish domain registrar and hosting company Blacknight, which is a longtime proponent of Internet innovation is excited to announce that in the near future, there are going to be a much larger number of domain extensions.
Beginning January 12, 2012 companies, organisations, groups and even cities will be applying to run their own domain name extension.
For several years, The International Corporation for Assigned Names and Numbers (ICANN) have been working to "open the Internet up" for a broader range of TLDs (Top-Level domains i.e.: Internet extensions such as .com, .net, .org). Some of these TLDs will probably cater for specific industries, professions, languages and locations and while no one knows yet what new TLDs we will see, some applicants such as .canon, .music and .nyc have been very open about their plans.
New domain extensions will greatly expand the possibilities for registering domain names and enhancing an online identity. For instance, if there is a .wine, that extension would be an obvious choice for wine sellers. For those with offices or presence in New York City, using a .nyc extension would make a lot of sense.
However, owning and operating a domain extension is not quite as easy. ICANN has formed a launch program with an application process that vets applications very carefully. The full cost of running a TLD is around $ 1 million US.
Michele Neylon of Blacknight explains: "Getting your own domain extension is not the same as simply registering a domain via a registrar. With your own domain name extension you would have a lot of freedom, but you also have a lot of responsibility as well. While it might be suited to an organisation, group, city or big company, it probably isn't something that most individuals would consider doing, unless they were multi-millionaires with a strong tech and legal teams."
Brand owners who may be concerned about having to register trademarks in multiple TLDs, shouldn't fret. The new TLD program has several trademark and IP protection mechanisms built in to protect such interests.
As to whether new TLDs will replace existing extensions, Neylon stresses: "This is an expansion, it is not a replacement. Existing extensions will not be affected."
ICANN will publish the full list of new extensions in early May 2012.Registrars will begin offering the new domains in 2013.
For more information on New gTLDs visit - http://blog.blacknight.com/new-tld-application-window-opens-tomorrow-what-does-it-mean.html
###