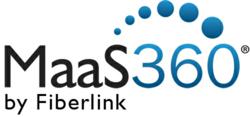 Blue Bell, Pa. (PRWEB) January 12, 2012
Fiberlink®, the leader in software-as-a-service solutions for secure mobile device management (MDM) and mobile application management (MAM), today announced that it has been named an "innovator" in a January 2012 Forrester Research, Inc. report on mobile device management vendors and solutions. The report, "Market Overview: Cloud-Hosted Mobile Device Management Solutions and Managed Services," cites Fiberlink as one of two innovators in a landscape of more than 40 vendors.
"…Fiberlink's single pane of glass, web-based console and experience with and commitment to security and compliance in the cloud computing arena has earned the vendor traction with the US federal government and a place on customers' shortlists," noted Forrester Research Principal Analyst Benjamin Gray and Researcher Christian Kane in the report.
Fiberlink was among 24 vendor companies that were interviewed for this report, and found to be an innovator in cloud MDM. The report shows which vendor companies have certain criteria among core mobile device management, mobile security management, mobile application management and differentiation. Vendors were segmented into four groups, innovators, new entrants, best-of-breed and services.
"The need for visibility into and control over corporate and personally-owned mobile devices that enter the workplace has never been more important," said Jim Sheward, chief executive officer at Fiberlink. "We are excited that Forrester Research has recognized Fiberlink's innovation and contributions to the mobile device management marketplace."
Delivered as a true cloud service, MaaS360 is the only solution that provides instant availability from the web to a single console for managing all enterprise mobile devices - including Android, iPhone, iPad, BlackBerry, Windows Phone 7 and Amazon Kindle Fire devices. MaaS360 also supports Mac and Windows laptops.
Unlike other vendors that offer a confusing array of deployment options, Fiberlink is singularly focused on cloud MDM, delivering a unique combination of powerful mobile security and management capabilities that are easy to use for both IT and employees. With MaaS360, businesses can instantly implement MDM, MAM, secure document sharing and mobile expense management (MEM) best practices. This includes over the air configuration, passcode enforcement, remote wipe, application management (required, blacklist, whitelist and VPP), enterprise application catalog, and secure document sharing. MaaS360 also offers the most advanced contextual policy management and real-time reporting functionality to help meet the most strict compliance requirements.
About Fiberlink
Fiberlink is the recognized leader in software-as-a-service (SaaS) solutions for secure enterprise mobile device and application management. Its cloud-based MaaS360 platform provides IT organizations with mobility intelligence and control over mobile devices, applications and content to enhance the mobile user experience and keep corporate data secure across smartphones, tablets, and laptops. MaaS360 helps companies monitor the expanding suite of mobile operating systems, including Apple iOS, Android, BlackBerry, and Windows Phone. Named by Network World as the Clear Choice Test winner for mobile device management solutions, MaaS360 is used to manage and secure more than one million endpoints globally. For more information, please visit http://www.maas360.com.
© 2012 MaaS360 and the MaaS360 logo are trademarks of Fiberlink Communications and may be registered in certain jurisdictions. All other brand names are trademarks of their respective partners.
###