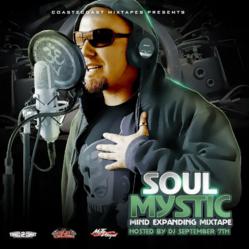 Miami, FL (PRWEB) January 12, 2012
Hip hop artist Soul Mystic recently released his mixtape "Mind Expanding Mixtape." Coast 2 Coast Mixtapes presents the project, which is hosted by DJ September 7th. Is is now available for free download. "Mind Expanding Mixtape" features Soul Mystic on tracks with guest artist appearances from Mondisa, Shalee, Madvise, and Xulogic.
Soul Mystic was born and raised in the Bay Area, but has also spent time living and performing in New York, Washington DC, and San Diego. He is a politically and socially conscious MC, a featured Coast 2 Coast Mixtape artist, and has an amazing live show. He is also the President/CEO of 3rd Eye Vision Entertainment (3rdEyeVisionEntertainment.com). Soul Mystic brings a message of love, self respect, and unity among all people over a mixed sound of old school soul, funk, and underground hip hop. He is not confined to any style and enjoys experimenting in different sonic mediums. As a writer of poetry and a seeker of higher knowledge since childhood, Soul Mystic uses his abilities to express himself, make political commentary, point out things that you might not see, and explore the contradictions in life. He is inspired by what he does not see.
Writing rhymes came early in life, and since he was very young he's been completely intrigued by the structure of language and the effect of rhythm and word on the mind. After graduating high school, Soul Mystic went onto Cornell University in New York. His freshman year he stayed in a dormitory called JAM (Just About Music). Surrounded by musicians and having access to a recording studio on the first floor, Soul Mystic (aka Wutudik) was very motivated begin recording his music. He formed an incredible group called Poetic Alchemy (along with Xulogic, A-Ra, The Good Tom Chi, and DJ Ric), and over four years the crew put out three full length LPs (Ascension, The MC Hotline, Alchephibious).
After graduating in 2002, Soul Mystic returned to the Bay Area in California and eventually moved to San Diego in 2004. He met up with two DJs from Buffalo, NY (Xrayi & H0mi 1 Ken0bi) and along with other MCs, singers, and producers. The DPS crew included Kabal the Nomadic One, Kharma, Coco Thunn, and an extended family of musicians. He now has a number of shows under his belt, and along with Mondisa, placed first at the 2010 Coast 2 Coast Convention Artist Showcase in Miami, FL.
"Mind Expanding Mixtape" is available for free streaming and download at http://coast2coastmixtapes.com/mixtapes/mixtapedetail.aspx/soul-mystic-mind-expanding-mixtape
###