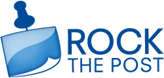 We feel like students are the ones with the biggest uphill battle
New York, NY (PRWEB) January 12, 2012
Rock The Post, the business social network that links entrepreneurs or project creators with investors, supporters and contributors, announced today they will be touring the east coast universities for Q&A sessions as well as recruit talented and ambitious individuals to join their team.
"We have a clear goal here at Rock The Post: our mission is to help entrepreneurs and project creators convert their ideas into extraordinary projects, and we feel like students are the ones with the biggest uphill battle," said Rock The Post COO Tanya Prive.
Rock The Post (RTP), understands the importance of encouraging brilliant young people to make their dreams come true. Introducing the platform to these individuals, RTP hopes to catapult projects and business ideas to a whole new level from a business social networking perspective.
The tour will start at Pace University, the New York City Campus, on February 7, 2012. The event will be hosted by two student organizations, IMA and SIFE.
The next stop will be at Harvard University on February 10th for the Start-up Career Fair!
About Rock The Post
Rock The Post is a business social network website committed to serve as a bridge and communication platform for business partnerships to form, and to become a place where projects, dreams, and passions become reality.
The unique platform targets entrepreneurs, artists and professionals with a wide variety of specialties, and eager investors and pledgers who are looking for unique investment or projects opportunities to support.
For more information and to have Rock The Post come to your campus, please use the following contact details:
info(at)rockthepost(dot)com
646.535.4181
http://www.rockthepost.com
###