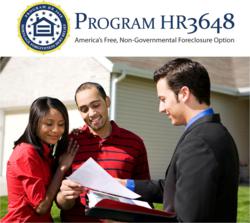 Phoenix, Arizona (PRWEB) January 11, 2012
RealPrompt Real Estate Services, home of Program HR 3648, began in Louisville, Kentucky in 2002 as a real estate investing firm, Strategic Home Buyers. Jeremy Bowman, Co-Founder and President states, "Strategic Home Buyers was started in a basement, and to see how far we've evolved since then and how many homeowners our Certified Program HR 3648. Specialists have been able to help is remarkable and inspiring to us."
Program HR 3648 has evolved into a free, comprehensive program that provides real estate agents and brokers all the leads, tools, technology, training, and assistance they need to help distressed homeowners in the agent or broker's exclusively assigned territory.
Program HR 3648 Specialists are in almost every major city in the United States. Since scaling their model nationally in 2006, Program HR 3648 has helped over 4,000 homeowners avoid foreclosure. Bowman continues, "The greatest satisfaction we get is listening to the sincere gratitude from so many distressed homeowners who have been helped…and we're just getting started."
Audio interviews of close to a hundred randomly selected homeowners throughout the country who were interviewed about their experience with the Program can be listened to at http://www.programhr3648.org/interviews.php
Woods Davis, vice president of marketing, adds, "We're looking at 2012 to be the break out year. We've moved our corporate offices to Arizona to position ourselves better for massive growth. We are so excited about all the great stuff we'll be rolling out to our agent partners this year. Thousands of homeowners need our help and they're going to get it."
For more information about Program HR 3648, you visit http://www.programhr3648.org or call Program HR 3648 at 1-800-915-1988. To read comments about Program HR 3648 from agents who are actually part of the Program HR 3648 community, including the #2 Coldwell Banker Agent worldwide, Jay Kinder. Visit to the Program HR 3648 Members Feedback area of the site. You can also review actual homeowner, agent, and broker comments by visiting Program HR 3648's official Facebook page - Program HR 3648 Official Facebook Page
CONTACT:
RealPrompt Real Estate Services
(Home of Program HR 3648 and TruDocs)
Terri Cole Executive Director
Office 1.800.915.1988
Terri.Cole(at)RealPrompt(dot)com
"We Support The H.O.M.E. Foundation"
About The H.O.M.E. Foundation:
The Helping Others Means Everything, or The H.O.M.E. Foundation, is a not-for-profit organization dedicated to helping our Family of Charities. Frank Verdugo, President of The HOME Foundation, wants to help as many worthy charities as possible as they struggle during these tough economic times. Frank Verdugo helps raise funds through luxury dream home raffles, prizes, and high profile celebrity events in Hollywood... "Our mission is to help charities reach their fundraising goals and to bring awareness to their praiseworthy causes." Please visit our Dream Home Raffle at: http://www.HOMEFoundationRaffle.com and http://www.facebook.com/HOMEFoundationRaffle.
# # #