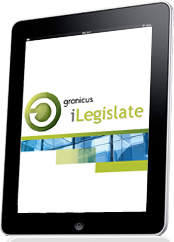 iLegislate is increasing in popularity because it's designed exclusively for government. It provides a productive and eco-friendly alternative to the bulky paper agenda packets governments are used to.
San Francisco, CA (PRWEB) January 12, 2012
Today, Granicus completed its production release of iLegislate, an iPad app that allows government officials to connect meeting agendas to the iPad to run paperless and more cost-efficient public meetings. Now, any agency with the desire to govern effectively using the iPad can leverage iLegislate and Granicus solutions to reduce paper waste and streamline their legislative process.
Over the past year, Granicus has experienced a surge of interest in iLegislate and the use of iPads from within the government sector. Since the iLegislate app was released into Beta ten months ago it's been downloaded by more than 1,500 government users and product interest continues to grow. This growth supports a trend Granicus uncovered in a recent poll where 80% of local government respondents indicated that they were either planning or implementing the use of government apps on the iPad to reduce dependency on paper, improve efficiency, and cut costs in their public meetings.
"We're encouraged to see such a strong demand for government apps on the iPad," said Tom Spengler, CEO and Co-Founder of Granicus. "iLegislate is increasing in popularity because it's designed exclusively for government. It provides a productive and eco-friendly alternative to the bulky paper agenda packets governments are used to. It also integrates with public meeting policies and procedures so governments don't have to worry about compliance issues."
Granicus made several major enhancements to iLegislate functionality during its Beta testing period based on user feedback. Here's a summary of some of the most popular features of iLegislate:

Digital note-taking – record and refer to itemized agenda notes quickly
Detailed agenda view – access supporting documents, recommended actions, and notes
Syncs with public meeting libraries – easily reference current and previous agenda materials
Playback meeting videos – search and watch archived, indexed videos
Automated backup – prevent data loss with backups to the Granicus cloud
Bookmark items – quickly refer to important notes
Email items – simplify follow-up on meeting action items
iLegislate is a component of Granicus' Government Transparency Suite which includes functionality to digitize, index, archive, and search government agendas and meeting videos online. It may also be used with Granicus' Legislative Management Suite which provides tools to digitally track and manage the entire legislative process—from agenda creation to policy approval and enactment.
"We wanted to expand the mobility of our agenda tools to streamline meeting preparation for policy-makers. By reducing dependency on paper and providing a more productive way to research, review, and take action on agenda materials prior to a meeting, we're helping improve the overall efficiency of the meeting," said Javier Muniz, CTO and Co-Founder of Granicus.
Granicus is receiving positive feedback from customers who have been testing the new product in their meetings. Maricopa City Council is among this group of early adopters. They reported that the app is helping them eliminate the extensive amounts of paper, staff time, and resources required to print, compile, and distribute paper-based City Council meeting agendas each month. This effort is expected to save them over $5,000 annually in printing and production costs, including 200 hours of staff time. Maricopa will be sharing their story at Granicus' official iLegislate launch webinar on January 26th from 10-11 AM PST.
"We wanted to take full advantage of the latest innovation in government technology to save natural and financial resources while providing our Council members a more convenient and efficient way to view agendas and prepare for meetings," said Mayor Tony Smith. "The iLegislate iPad app allowed us to do this and much more. Our Council members were excited to be one of the first municipalities to test the new software."
Resources:

Blog: Click here for Granicus CTO, Javier Muniz discussing the new app
Webinar: Click here and register to hear the top reasons governments are going paperless in 2012
About Granicus
Granicus, Inc. is the award-winning cloud platform provider for government transparency, efficiency, and citizen participation. It offers the first cloud platform and product suites designed specifically to help government agencies establish meaningful connections with citizens while reducing operational costs. Granicus has been recognized the past four years for being one of the fastest growing company private companies in the U.S., San Francisco, and the Silicon Valley by Deloitte LLP, the San Francisco Business Times, and Inc. Magazine.
###