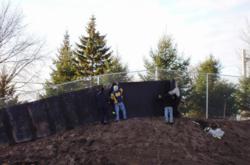 It exceeded my expectations, I think it exceeded everyone's expectations. I couldn't speak more highly of it.


Bay City, Michigan (PRWEB) January 12, 2012
Coca-Cola has completed installation of Acoustifence® noise barrier fencing along the west perimeter of its Bay City plant, bringing to an abrupt halt those noise issues that had been plaguing neighbors in the surrounding community and attracting local news organizations as the outcry from area residents grew.
Architect Jack Zelazny of Dearborn, Michigan, acting as a consultant to Coca Cola's contractor Kirco Manix, chose Acoustifence noise barrier fencing for the core of the 300-foot wide sound barrier project designed to alleviate noise from idling delivery trucks at the plant that had been plaguing neighbors in the South End community.
Zelazny said the initial plan was to construct a 30-foot acoustical metal fence along the perimeter roadway to address the problem, but he nixed the idea in favor of something significantly less expensive and more aesthetically pleasing and to the community's residents.
"I didn't think it was appropriate for the neighbors to have to stare at a 30-foot industrial metal fence from their small residential yards," Zelazny said. "I really wanted to find something more organic and natural."
After researching sound barrier fencing options, he found Acoustifence, a product of Acoustiblok, Inc. in Tampa Florida, and discussed his options with acoustical consultant Paul Getts of Acoustiblok. After conferring with Getts, Zelazny moved ahead with construction of a grass covered, 300-foot wide berm that incorporated a nine foot high Acoustifence barrier and landscaping for an attractive roadside aesthetic. The project was completed in the final weeks of December, and both company officials and neighbors rang in the New Year with their new found peace and quiet.
"The Acoustifence went up flawlessly, and it's not unpleasant to look at," Zelazny said. "When we covered it with the dark green acoustical fabric it looked natural and organic, as we had hoped.
"But the real surprise was the immediate impact it had on the noise."
Zelazny said the plant noise measured at 89 decibels before installation of the Acoustifence began, and registered at 68-decibels on the Coca Cola plant property immediately after the Acoustifence went up. Remarkably, the decibel reading at the residence next door to the plant dropped significantly - more than twice the 20 decibel drop he had hoped for on some readings.
"It exceeded my expectations, I think it exceeded everyone's expectations," he said. "The people at Coca Cola are happy with it, and most importantly the neighbors in the surrounding community are happy with it.
"I couldn't speak more highly of it."
Lahnie Johnson, president and founder of Acoustiblok, Inc., said that the application of Acoustifence in the bottling plant's noise barrier berm was the soft drink company's best alternative for significantly reducing noise, and respecting the surrounding community's call for peace and quiet.
"I think Coca Cola acted quickly and responded to the area's residents as a good corporate neighbor should," Johnson said. "It's particularly important that they sought out a serious noise blocking option while respecting the fact that neighboring residents would be living with whatever solution they chose, and viewing it every day – some from their own back yards."
Acoustifence was designed to address outdoor noise pollution in residential communities, or any community that cares about its appearance."
ABOUT ACOUSTIFENCE:
Originally developed as a noise barrier on loud offshore oil rigs, Acoustifence is a simple and economical first-step noise abatement solution for both residential and commercial usage.
A 1/8-inch (3mm) thick unique sound deadening material measuring 6-feet (1.82 meters) high by 30-feet (9.14 meters) long with black anodized brass eyelets along the top and bottom edge for easy attachment to any existing fence or structure. Heavy-duty nylon ties are included with each roll. Easily installed or removed in less than one hour, impervious to mold, mildew, and UV, Acoustifence is virtually indestructible. The soundproofing material in Acoustifence is a proprietary formula of the Acoustiblok Corporation, developed and refined over a 10-year period.
Acoustiblok is recognized and sold worldwide, earning product awards from the British House of Commons, as well as being one of NASA's Top 49 Spinoff companies.
Acoustifence has proven performance in highway and high speed rail environments, construction sites, and industrial plants, and can accommodate any height fence or structure by simply overlapping the sections. To store, Acoustifence sections simply roll up like carpet. Independent lab tests of the Acoustifence material show a sound transmission classification (STC) of 28, which represents to the human ear an approximately 85-percent reduction in sound. However, results will be less, relative to surrounding sound reflective objects such as buildings or trees and the amount of Acoustifence installed.
For more information on Acoustifence, visit the Acoustiblok website, email sales(at)acoustiblok(dot)com, or call 813.980.1400.
###