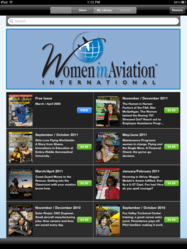 The iPad Publisher is an easy and affordable way to distribute and sell publications to the millions of iPad users worldwide.
New York, NY (PRWEB) January 12, 2012
The iPad is a blockbuster success that has changed the way that millions of people worldwide consume content. It is ideal for many purposes, including reading magazines, comics, books, ebooks, periodicals, and publications of all types. With the introduction of Newsstand, Apple is encouraging publishers to distribute their publications through the iTunes App Store.
"The iPad Publisher is an important product because it levels the playing field and is affordable. With it, any publisher, organization, self-publisher and content creator now has the same global mobile distribution reach as Time Warner, Hearst, and the other mega publishers." said Manish Sehgal, CEO of Nov8rix.
"We give clients their own fully-branded, exclusive iPad digital storefront app for their publications. Clients have 100% creative control over the inventory placed in their app. Apple pays our clients directly for their sales and we do not take a share.
The publishing industry today is challenged by diminishing profits, rising costs, and is feeling the impact of technology changing how customers consume content. Expanding into digital publishing and mobile distribution from a traditional print and/or web focus can be overwhelming. There are so many considerations: formats like ePub vs. PDF, devices such as tablets vs. ebook readers, and many other options to choose from.
Our goal was to simplify the process, remove the risk, and make it affordable for anyone to 'dip their toe' into mobile apps without spending much money or time. When clients work with us, all they have to do is provide us with their content and we take care of everything else.
By giving clients their own bit of real estate in the iTunes App Store, we enable our customers to reap (and keep) what they sow. Our clients are really happy with their iPad Publisher apps." adds Manish.
"The folks at Nov8rix went out of their way to make the seemingly gargantuan task of creating an iPad Publisher app simple for us at Women in Aviation, International. They met with us and explained the process succinctly. That made it a simple matter of uploading our finished materials to Nov8rix and watching them work their magic. Our magazine displays beautifully on the iPad now, and within a week we were able to begin the process of reaping the rewards of being available to a much, much larger marketplace." says Amy Laboda, Editor-in-Chief, Aviation for Women Magazine.
Nov8rix was founded in 2009 to focus on turning cutting edge mobile content publishing technology into affordable products. To date they have released 200+ apps on iOS and Android.
Visit Nov8rix.com for more information:
http://www.nov8rix.com/
http://www.nov8rix.com/ipad-publisher/
###