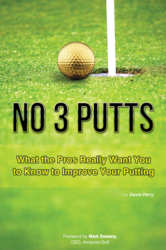 Every score in golf ends on the putting green, but this is where players spend the least amount of time developing skill" – Mark Sweeney, CEO Aimpoint Golf
(PRWEB) January 27, 2012
The 3 putt is the most frustrating shot in golf and golfers everywhere can now avoid this embarrassing situation by learning from award winning PGA, LPGA and Golf Digest rated instructors and club fitters in the USA. The exclusive interviews, available only in this book, share key insights on the true importance of putting in the overall golf game, as well as key techniques, tips and attitudes needed to really understand how to improve their putting.
Readers of this book will benefit from the decades on instruction and tens of thousands of lessons that these top instructors have given to their students, including touring golf pros. They know how golfers approach putting; what works, what doesn't work and what is really required to improve putting and their overall golf game.
"90% of players that come into our shop cannot aim their putter over the hole from 6-feet away"

Andy Thompson, Golf Digest Top 100 Club Fitter
The truth is most average golfers think they are good putters, but they can't aim their putter or read greens very well on a consistent basis. The putt looks so simple, especially from 6' away, yet the PGA tour average on a 6 foot putt is only about 50%. Golfers need to spend more time on the practice green instead of the driving range in order to build skills to lower thier score. Readers will learn about putting styles, how to go from green guessing to green reading and the skills they need to remedy their putting limitations.
"Every player has the ability to putt as well as the best putters on tour"

Mike Shannon, Golf Magazine's "Top 100 Greatest Teachers", 2011
We watch tour pros play on TV every weekend and sink putt after putt after putt, but fail to realize the knowledge and individual effort these pros put into improving their putting skills on a daily basis. The reader will gain valuable insight into major elements needed for great putting, key practice drills and the attitude required to improve their putting skills and bring "fun" back into their game.
"I applaud your concept; it's right on. If people are really upset about being a 25-36 handicap, let's go watch them putt. That's the fastest area in the game to save five shots a round. That's where people can make the quickest improvement" - Dan Schwabe, Northern California PGA Teacher of the Year in 2009
David "No 3 Putts" Perry has dedicated No 3 Putts: What the Pros Really Want You to Know to improve Your Putting" to help all golfers understand the true importance of putting and discover what techniques and tips will help them really improve their putting and overall golf game.
# # #