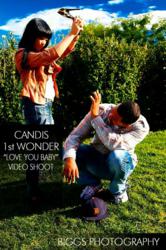 New York, New York (PRWEB) January 13, 2012
Shortly after being a nominee for the 2011 Best Female Rapper of the Year by The Underground Music Award (UMAs), Brooklyn native Candis (SheIsHipHop) and 1st Wonder of F02 Music Group released their new single and music video, "Love You Baby." Featuring performances by Nikita Tyree, Nathaniel Peterson and produced by No Joke, the song tells about the many ups and downs in relationships. "Love You Baby" is a [catchy] song that many can relate to and identify with, to get through those rocky times with a significant other. The single is now available on iTunes.
"Love You Baby" is the duo's first full length music video directed by IAmBiggs and shot on location in New York and New Jersey. The video chronicles two couples who are experiencing their fair share of disagreements. The main male characters (1st Wonder & Poe) are shown paying little to no attention to their ladies (Candis & Myoshi). Although this frustrates each couple, the love they share for each other is obviously much stronger.
During the music video premiere in October 2011, LA Sunshine of the pioneering hip hop group Treacherous 3, a father figure to 1st Wonder, attended. "To be the person he (1st Wonder) is and come all the way to this point...It doesn't get no better but it will get greater later, "said LA Sunshine. When asked about his thoughts on the video, Mike C of the pioneering hip hop group the Fearless Four proclaimed, "HOT TO DEAF!!!"
These gifted up and coming superstars caught the attention of MTV's RapFix Live where the video premiered. During an exclusive interview with the show's host Sway and rapper Wale, the duo received its first nationally televised appearance. "Candis, it's good to see a good looking female who can actually rap and 1st Wonder held his own too," said Sway. When Wale was asked to provide his feedback on the song he said, "Dope.....Making music people can relate to is always a plus. I'm all for the love stories."
View the video at http://www.youtube.com/F02MusicGroup
View the MTV RapFix video premiere and interview at http://www.mtv.com/videos/news/707409/meek-cole-drake-sean-comprise-wales-dream-tour.jhtml.
To hear more about SheIsHipHop and her upcoming album, check out pictures and videos at: http://www.facebook.com/SheIsHipHop
Download the single on iTunes http://itunes.apple.com/us/album/love-you-baby-feat.-nikita/id456653322.
Download the single on Amazon http://www.amazon.com/feat-Nikita-Tyree-Nathaniel-Peterson/dp/B005GXW7GQ
About Candis (SheIsHipHop)
Candis White (SheIsHipHop) is a rap artist with F02 Music Group out of Jersey City, NJ. Raised in Brooklyn, NY, Candis has been performing at some of the hottest spots in the tri-state area. In the Summer of 2011 she was awarded the privilege to perform at the 2nd Annual Female Hip Hop Honors in Los Angeles before Hip Hop and R&B legends like Roxanne Shante and Michel'le. While most suffer the loss of their mixtape buzz after a while, Candis continues to reign.
About 1st Wonder
1st Wonder has been featured on 107.5 WBLS NYC Radio Station doing intros for Wendy Williams show and a rap battle on BET's Spring Bling. His forthcoming single titled "R.S.V.P" premiered on NYC's Power 105.1FM Radio on January 8, 2012 courtesy of DJ Ty Boogie. 1st Wonder has a huge family background in the music industry including being raised by LA Sunshine of the Treacherous 3, (Mom) Markieta of old school Female Hip Hop Group Main Attraction, and Brother Lee Carr (previously signed to Def Jam & Jive Records.)
###