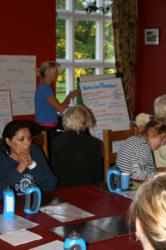 The UK's No.1 Fitness Retreat
(PRWEB UK) 17 January 2012
The weight loss boot camp market leaders have decided to extend their £100 special offer to help with the new years resolutions.FitFarms opened the original weight loss retreat back in 2006 and frequently gives these special offers to guest wishing to lose weight.
There has been a mixture of military fitness retreats and more recently personal training weight loss camps opening in every corner of the country but the FitFarms holistic approach is the most favoured with the nation.
FitFarms has learnt over the years by watching the rise and fall of the UK boot camp market and has produced a more polished course than its rivals.
The company is the first to admit that at the beginning of their journey they were very similar to a fitness camp style programme. Early mornings lots of walking on roads and a repetition of exercises that was effective but not very inspiring.
Recent studies by the american college of sports medicine show an increase in fitness boot camp companies around the globe. FitFarms believes there will soon be a decrease in these style companies because they are not welcoming the holistic approach.
Stephen a former Danish professional squash player and coach founded the company and trained young personal trainer Julie into the health manager role. The programme developed but unfortunately more towards a UK military boot camp.
Gillie Sutherland took over the position as fitness retreat manager and FitFarms really started to develop itself as the market leaders.
It is clear to see the new holistic weight loss retreat approach from Gillie's video diary.
The special offers that run all year round are welcomed by guest as far a field as Asia and Africa all looking for the holistic approach to lose weight. The FitFarms philosophy is sustainable health and weight loss. During the week guest take part in many workshops including exercise, nutrition and behaviour therapy. Once the fitness weight loss retreat has ended guest enter a 3 month post course programme to keep on track.
Gillie has more recently been promoted to Programme Director and now overlooks the nutrition, exercise and behaviour therapy. The FitFarms fitness retreat has come on in leaps and bounds and is a much more improved life changing programme than it's former 2007 to 2010 style of course.
###