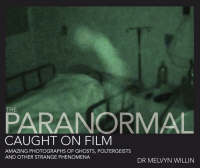 We hope to publish more than 50 eBooks this year with the aim fo captivating even the most hardened skeptics.
(PRWEB UK) 14 January 2012
Paranormality series consultant, Dr Melvyn Willin (Society for Psychical Research) is looking forward to presenting a range of ebooks covering everything from angels and UFOs to near-death experiences, vampires, ghosts and witchcraft.
Speaking of the project, Dr Willin said 'We're very excited and already have a number of interesting vintage titles ready to bring back for the Paranormality series. We hope to publish more than 50 ebooks this year with the aim of captivating even the most hardened skeptics.'
F+W Media International's Managing Director James Woollam said "We've had great success with books like the Paranormal Caught on Film, The Ghost Chronicles and Angels Among Us and wanted to take this forward into ebooks. With the growing popularity of digital reading, this is a great opportunity to bring these rare texts to new audiences."
While the series is primarily focused on reviving existing works, Paranormality is also calling for submissions from non-fiction authors for new titles in the series. Potential authors should send abstracts of no more than 300 words, a draft contents list and a brief biographical statement (150 words) to Judith Harvey (Judith.Harvey(at)fwmedia(dot)com). Only non-fiction proposals will be accepted – Paranormality will not be publishing fiction titles. Recommendations for previously-published titles to be included in the series can also be forwarded to Judith Harvey.
For more information on the upcoming Paranormality series, visit http://www.fwmedia.co.uk.
###