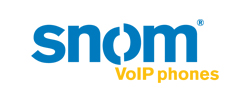 Woburn, Mass. (PRWEB) January 12, 2012
snom technology AG, a leading developer of IP desktop phones and IP communications solutions, today announced its snom Americas Gold and Platinum Partners for 2012, with Novus, LLC attaining the coveted Platinum Partner status, and ABP International, Inc. and TeleDynamics, LLP becoming Gold Partners. Gold and Platinum partner status is awarded in recognition of strong sales of snom products, as well as the high levels of support the partners have provided to their snom customers throughout 2011.
Novus, LLC is one of only nine distributors worldwide that have been awarded Platinum Partner status and the only in North America. ABP International and TeleDynamics are two of only ten Gold Partner awards bestowed upon organizations across the globe. The distributors will take advantage of a number of benefits resulting from their new status as Platinum and Gold Partners, including additional channel advertising support. Platinum Partner activities will include joint marketing campaigns, additional sales activity and inclusion in the snom Certified Engineer program.
"Platinum Partner status is awarded in recognition of the hard work our partners have been doing pushing our products through their sales channels," explains Dr. Michael Knieling, executive director at snom technology AG. "All of our Platinum and Gold partners have had a very successful year selling snom's products, and it is great that we are able to recognize this by awarding them Platinum and Gold Partner status. However, this is not just based on sales, but also the fact that these distributors have displayed fantastic customer support and knowledge of the snom product portfolio. These distributors have gone above and beyond simply selling our products."
snom has three levels of distributors – platinum, gold and official – as part of its Partner Program, a comprehensive indirect channel sales program designed to broaden snom's global sales coverage and drive sales for the company's portfolio of advanced IP business phones. The program is anchored by snom's distributor partners who provide the mission critical, on the ground sales support and distribution for snom's products to snom Certified VAR partners, its growing network of highly trained telecom resellers, interconnect, IT services and managed IT service providers in the Americas.
A total of 19 companies worldwide were recognized as Gold and Platinum level distributors for 2012. A full list of snom's global Platinum and Gold Distributor partners for 2012 can be found at snom's website at http://www.snom.com.
Launched in 2007, snom's Partner Program is a comprehensive global channel sales and marketing program to provide snom's network of distributor and registered and certified value added reseller partners with the tools to support and expand snom's worldwide customer base, delivering the optimal level of customer service and direct access to the latest snom technology.
For more information about snom in the Americas, please visit us at http://www.snomchannel.com; follow us on Twitter at http://www.twitter.com/snom; become a fan on Facebook at http://www.facebook.com/snom.VoIP.phones; or join our LinkedIn group at http://www.linkedin.com/groups?gid=1773766.
About snom
snom technology AG develops and manufactures VoIP telephones and related equipment based on the IETF open standard, SIP (Session Initiation Protocol). Recognized for its high-quality, customizable and cost-effective business solutions, snom is also differentiated by the company's history in the VoIP industry and its dedication to high security standards. All of snom's products, from desktop phones to IP PBXs, are designed to be fully interoperable with leading communications equipment vendors. snom customers benefit from the interoperability and flexibility that the snom telephones offer, including plug-and-play integration and universal compatibility with any SIP-based telephony platform. In September 2011, the snom 300 and the snom 821 were the first SIP phones which were officially tested and qualified as interoperable with Microsoft Lync™ by Microsoft.
Founded in 1996 and headquartered in Berlin, Germany, snom technology AG also has offices in Italy, France, the United Kingdom and the US. For more information on snom, please visit http://www.snom.com
###