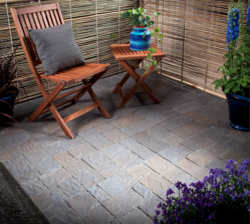 Domino Pavers offer a natural stone look and texture in a unique design that is based on the concept of an actual domino
Atlanta, Ga. (PRWEB) January 20, 2012
Belgard® Hardscapes announces the national release of their new Domino Paver Collection™, which was specifically designed to provide a dimensional paver surface with reduced installation time and waste.
"Domino Pavers offer a natural stone look and texture in a unique design that is based on the concept of an actual domino," says Ken O'Neill, Vice President of Belgard Hardscapes. "The rectangular-shaped paver's combination of variegated color tones, 3-D texture, and scored surfaces give the illusion of a multi-dimensional paver installation without the hassle of multiple shapes."
Since Domino Pavers come in a single shape that can be handled two at a time, there's less product handling and cutting, resulting in an installation that's done in a fraction of the time of a three or four-piece system. Domino Pavers offer the design flexibility of installing in a running bond, herringbone, or basket weave pattern and are an ideal surface for walkways, patios, pool decking, and residential driveways.
For additional information on the Belgard Domino Paver Collection, visit http://www.belgarddesignpro.com/docs/domino_paver.pdf.
About Belgard Hardscapes
Since 1995, Oldcastle® has set the standard for innovative outdoor hardscapes with the Belgard® collection of paver and wall products. Offering a versatile range of styles - in antiqued, classic, and natural textures - premium Belgard products are found in America's finest homes and dream homes. When quality matters - Choose Belgard. 1-877-Belgard (235-4273). For additional information and product offerings from Belgard Hardscapes by Oldcastle®, visit http://www.belgard.biz.
# # #