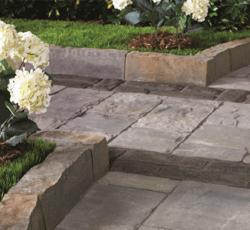 Homeowners are trending towards a more modern, manicured look
Atlanta, Ga. (PRWEB) January 13, 2012
Belgard® Hardscapes, the leading manufacturer of paver and wall products, announces the national release of the Anglia Edger™. Anglia was released regionally in the Northeast, Mid-West, and West Coast regions in 2011 to provide consumers with a more cost-effective and decorative option for edging paver surfaces.
"Garden wall units and bullnose type concrete edging have long been a standard way to edge a paver field, but now, homeowners are trending towards a more modern, manicured look," explains Len Browning, Hardscape Technical Advisor for Belgard. "Our Anglia Edger is eight inches high, which allows it to be installed on the same base as the pavers to easily form a clean, raised edge to achieve a modern style."
Designed for edging driveways, patios, walkways and creating small planter walls, Anglia Edger offers the look of natural stone without the cost. Anglia features a chiseled finish that emulates hand-hewn stone and is tumbled to look distressed. Available in a variety of color choices and a number of different lengths for flexibility of design, the Anglia Edger is beveled on the ends to allow for creating both curves and angles.
The larger scale of the Anglia Edger makes it an attractive and cost-effective alternative to mortar-set granite and other natural stone edging because there are fewer pieces to install and fewer joints. Anglia can also be used to create natural-form steps because of its height and thickness.
For additional information on the Belgard Anglia Edger Collection, visit http://www.belgarddesignpro.com/docs/anglia_edger_cut_sheet.pdf.
About Belgard Hardscapes
Since 1995, Oldcastle® has set the standard for innovative outdoor hardscapes with the Belgard® collection of paver and wall products. Offering a versatile range of styles - in antiqued, classic, and natural textures - premium Belgard products are found in America's finest homes and dream homes. When quality matters - Choose Belgard. 1-877-Belgard (235-4273). For additional information and product offerings from Belgard Hardscapes by Oldcastle®, visit http://www.belgard.biz.
# # #