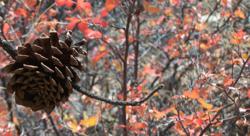 If you look around your home, you'll see pine cones in everything from potpourri and floral arrangements to fire starters and natural bird feeders
Roundup, Montana (PRWEB) January 12, 2012
Today, Pine Cones Plus opened online for business and Doug Wilson and his wife Jill, might have one of the prettiest manufacturing facilities in Montana. Pine cones are a renewable resource that is in demand in home décor and natural pet stores worldwide. Pine Cones Plus sells Ponderosa pine cones harvested from the beautiful Bull Mountains of Montana. In the fall, pine cones open up and spread there seeds to ensure a new generation of Ponderosa pine trees and a renewable product.
"If you look around your home, you'll see pine cones in everything from potpourri and floral arrangements to fire starters and natural bird feeders," stated owner Doug Wilson. "With a little investigation, we found that there is a large market and we have product just steps from our front door," he continued.
Harvesting each and every pine cone themselves, the Wilsons have found that their products are popular in several markets. Pine Cones Plus sells directly to the public and wholesale programs for distributors are available. Besides the floral, craft and décor markets, pet stores and breeders use pine cones as a natural toothbrush and toy for small animals. The dried pesticide-free pine cones provide an ideal cost effective abrasive material and chewable toy for rabbits.
So, what is the "Plus" in Pine Cones Plus? An avid outdoorsman and hunter, Doug has used cedar as a natural scent block for years. Cedar is one of nature's own bug repellants and natural scent control for hunters. He's made cedar products part the Pine Cones Plus line. Hunter's Scent Block Cedar Chips are available to place your hunting gear, make a scent block spray or use in storage.
Pine Cones Plus plans on sharing craft ideas, scenting and waxing recipes and practical uses for pine cones and cedar in the monthly blog. Bulk Ponderosa pine cones are for sale in several sizes and colors. Pine cones are a great fundraiser for 4H and scouting and inquiries are welcome. Wholesale inquiries and any other questions about the process or products are also welcome. To purchase or take a look at the selection, visit http://www.pineconesplus.com.
###