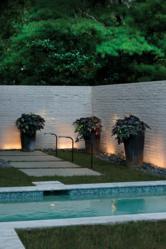 LED lighting is a responsible investment.
Chicago, IL (PRWEB) January 13, 2012
More than 130 years ago, Thomas Edison introduced an incandescent lighting system that was safe, practical, and economical for the time. Times are changing however, and what was once an efficient lighting system is now energy wasting technology.
Today, electric lighting affects the environment adversely and burns up to 25% of the average home energy budget; change is essential. Enter light emitting diodes, or LEDs. This new technology is rapidly advancing to become the most energy efficient, long lasting, durable lighting on the market that the United States Department of Energy believes to have "the potential to more than double the efficiency of lighting systems, significantly reduce our carbon footprint and transform the built environment."
Hinkley Lighting is helping to transform our environment and decrease the amount of light pollution with the introduction of their "eco-luxury landscaping" systems that allow you to make green choices in all aspects of design. Nexus, Atlantis, Piza and Harbor collections are among Hinkley's new 2012 designs that beautifully incorporate this new technology. Fixtures are fully equipped with integrated LED light sources and built-in drivers.
Four important areas to consider with landscape lighting are path, deck, accent, and step. Low-level path lights, or area lights, are necessary to keep walkways visible. Deck lights and step lights are unique in their subtle light distribution, and provide safety with multi-level construction throughout your property. Accent lights use directional beams to act as spotlights to trees and other architectural elements.
Benson Littman, Littman Bros Lighting owner, sees LED lighting as a "responsible investment that increases the value of your home. Hinkley landscape collections have made LED do-able."
There is zero maintenance with LED because the bulbs never burn out. The quality of light has been hard to achieve in LED and Hinkley has done a better job than its competition in LED landscape lighting, Littman said.
About Littman Bros Lighting
Littman Bros Lighting has more than 30 years of experience in the industry. With their close relationships to the industry's leading designers and a team of specialists, Littman Bros is able to provide their customers with the finest quality products. With the help of Hinkley's LED collections, Littman has become a strong advocate of LED lighting.
# # #