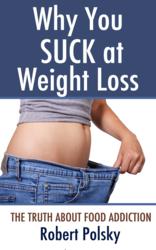 It gets much easier, once you release the addictive cravings and false hunger pains......."This book could go viral"
Los Angeles, CA (PRWEB) January 17, 2012
After a mysterious and debilitating disease involving the nervous system sidelined him for several years, author Robert Polsky has burst back on the scene with a book for anyone who has ever wondered why they can't seem to lose weight. "Why You Suck at Weight Loss: How Your Emotions Make You Fat and How to Transform Them" looks at eating disorders, such as emotional eating, food addiction and binge eating and gets to the root of why even good diets so often fail.
"Despite the cute title, the book is actually the culmination of some of the most profound teachings from both Eastern and Western medicine, as well as the psychologically sound teachings of Buddha," said Polsky.
Polsky is uniquely positioned to write about the topic. Overweight as a child and fighting a spare tire as an adult, it wasn't until he sought healing at multiple meditation retreats in Asia that he realized the role emotions play in food addictions and eating disorders such as emotional eating and binge eating. His new book grew out of that insight, providing essential information that enables readers to take control of heal their emotions and beat the battle of the bulge. Polsky states: It is actually a book about healing and transforming the Spiritual Heart or what Author Eckhart Tolle has called the Emotional Pain Body. Polsky suggests this is what is at the root of these food cravings and compulsive and addictive disorders.
The author addresses addictions to simple carbohydrates and the unconscious emotional forces that lurk within that can turn an otherwise healthy eater into a beast that devours food unchecked, due to addictive cravings and what he refers to as "false hunger pains". Polsky helps readers take a candid look at their bodies and motivation for eating, and provides three essential steps to transform a ferocious addictive food craving into manageable eating habits.
Polsky examines the psychology of binge eating and how feelings can masquerade as hunger pains. In today's busy world that encourages eating at all hours, many have lost the ability to tell the difference between true hunger pains and those generated by emotions. "Why You Suck at Weight Loss" examines the condition in depth and teaches techniques to learn how to tell the difference for a slimmer, healthier lifestyle. The author also promises that improved physical, mental and emotional health are additional benefits from the practice of the lessons addressed in the book, resulting in greater peace and calm.
Polsky's website at http://www.WhyYouSuckatWeightLoss.com offers an additional book: Glycemic 101 that shows individuals how to use the glycemic index with foods the body craves to avoid dangerous spikes in sugar. Bonus materials also include "Fat Loss Jumpstart," a book of recipes from a well-known fitness and nutrition expert. Readers will also receive "7 Secrets of Permanent Fat Loss and Fitness," with the seven secrets to burn fat faster.
"Why You Suck at Weight Loss" is the distilled knowledge Polsky has accumulated during his 30 years as a researcher, having lived, studied and practiced in places such as India, Central America and Southeast Asia for several years. The book draws upon his knowledge from studying with and/or being treated by some of the most revered experts in the field, from Western doctors to an 86 year old Tibetan monk, who was the former personal physician of the Dalai Lama. The author takes readers along with him on his journey of discovery and healing as he chronicles his search for peace, enlightenment and a lasting weight loss solution.
Why You Suck at Weight Loss is available on Amazon for Kindle that includes free wireless delivery via Amazon Whispernet, Smashwords, or you can purchase it at http://www.WhyYouSuckatWeightLoss.com to get a specially priced package of weight loss e-books with special bonuses. Hard copy is available at Amazon Create Space and can be ordered online. You can also find relevant blog posts and excerpts from the book at http://www.WhyYouSuckatWeightLoss.com/blog. An audio version is soon to be released and will be announced at the blog site, so be sure to get on the list to be notified.
Fans can follow him on his Facebook page at http://www.facebook.com/whyyousuckatweightloss.
An audio version is soon to be released and will be announced and will be announced here, so be sure to get on the list to be notified.
About the Author
Robert Polsky grew up in St. Louis, MO and obtained a bachelor's degree in finance. After launching a successful career in commercial real estate, he was stricken with a mysterious and debilitating health challenge that lasted for several years. Seeking relief and a cure, he became a researcher in his own right and journeyed to various parts of Central America and Asia where he spent several years cumulatively, exploring acupuncture, Tibetan and ayervedic medicine, herbology, various forms of yoga and meditation, breath work and chi kung. He has studied with and/or was treated by some of the most well-known experts in Eastern and Western medical and natural healing techniques.
###