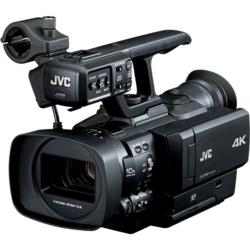 B&H Photo is excited to share with video enthusiasts the release of the all new JVC GY-HMQ10 professional camcorder.
NYC, NY (PRWEB) January 12, 2012
B&H Photo Video is excited to share with video enthusiasts the release of the all new JVC GY-HMQ10 professional camcorder.
The GY-HMQ10 is the world's first handheld camcorder capable of capturing and recording real-time video at 4 times the resolution of full HD—3840 x 2160 images at 24p, 50p and 60p. Now one can deliver stunning cinema-quality recordings with the same ease of operation as a standard HD video camera.
Great images begin with a great optical system. The JVC GY-HMQ10 employs a razor sharp F2.8 10x zoom lens specifically designed for 4K imaging. A high speed 1/2-inch class CMOS device with 8.3 million active pixels (3840 x 2160) captures live progressive images at up to 60 frames per second. This tremendous amount of data is then processed using an array of custom JVC Falconbrid LSI chips that deBayer the image and provide a live 4K output while simultaneously compressing video for recording onto separate solid state memory cards. 4K recordings up to 2 hours in length can be made using four 32GB SDHC cards.
Operation and form factor are very similar to JVC's popular GY-HM150 with manual or auto control of focus, iris, gain, shutter, gamma level, color matrix, and white balance.
The GY-HMQ10 also functions as an exceptional HD camcorder thanks to its larger 4K sensor and superb optics. It records full HD (1920 x 1080) at 50/60p or 50/60i onto a single memory card in the AVCHD format.
The GY-HMQ10 was developed using the most advanced technology found in any professional camcorder. High resolution (4K+) still picture imaging has been around for several years in point and shoot digital cameras. Motion video capture with these cameras has always been done at a lower resolution because of lack of processing power. Likewise, high end digital motion picture cameras can capture 4K images, but often provide a raw data output to an external storage array for later processing—again due to lack of processing power in the camera. There just hasn't been the ability to capture, process and record full 4K images in real time in such a small form factor until now.
Read more at BH Photo InDepth CES Announcements
About B&H Photo Video
As the world's largest source of photography, video and audio equipment, B&H Photo-Video is known worldwide for their attentive, knowledgeable sales force, and excellent customer service, including fast, reliable shipping. Visitors to the website can access a variety of enlightening articles and educational videos. B&H has been satisfying customers worldwide for over 35 years.
###