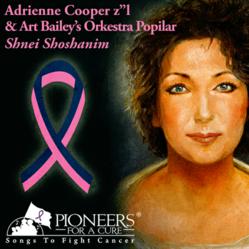 Join the fight against cancer, for a song.
New York, NY (PRWEB) January 17, 2012
Pioneers For A Cure - Songs To Fight Cancer is pleased to announce the iTunes and Amazon release of 'Shnei Shoshanim' (Two Roses) by the late Yiddish singer, teacher and curator Adrienne Cooper, performing with Art Bailey's Orkestra Popilar. The artists have selected the Breast Cancer Research Foundation to receive proceeds from downloads of the song.
The cover art for "Shnei Shoshanim" is by the Israeli fine artist Mira Sasson, who has painted dozens of portraits of Pioneers For A Cure contributors.
The song can be found on iTunes at http://itunes.apple.com/us/album/pioneers-for-a-cure-shnei/id494980295
Donors can customize their donations at http://pioneersforacure.org/artist/adrienne-cooper-and-art-baileys-orkestra-popilar/
Adrienne Cooper was internationally recognized as one of this generation's stellar performers of Yiddish vocal music. Her inspired innovations in music and culture production were recognized by awards, grants and commissions from University of Pennsylvania's Annenberg Center and UCLA, The Jewish Museum, United Synagogue, the National Endowment for the Humanities, the National and New York State Endowments on the Arts, the New York Council for the Humanities, and the National Foundation for Jewish Culture. She was the recipient of Klez Canada's Lifetime Achievement Award in Yiddish Arts and Culture. Cooper was diagnosed with adrenal cancer in July 2011, and died on December 25, 2011.
Orkestra Popilar is a Jewish music ensemble led by accordionist and pianist Art Bailey and featuring bassist Jim Guttmann, violinists Jeremy Brown and Jake Shulman-Ment, and mandolinist Brandon Seabrook. The repertoire includes 20th century Jewish fiddle pieces, improvisation, newly composed music, and pieces from the klezmer and Eastern European repertoire.
Shnei Shoshanim was composed by Mordechai Zeira (1905 – 1968), with lyrics by Yakov Orland (b. 1914). Zeira made aliyah from Russia at the age of 19, and as the "father of Israeli song" became well known as a kind of "troubadour," traveling the length and breadth of the land, writing songs that captured the spirit of the pioneers and the many communities from which they had come, and gaining a popular following for his music. Orland, also born in Russia made aliyah with his family at the age of 11, and went on to a distinguished literary career that included plays and translations as well as his poetry. His popular lyrics, which attracted many composers to his poetry, earned him the Israel Prize for Israeli Song.
The Breast Cancer Research Foundation (BCRF), founded in 1993 by the late Evelyn H. Lauder, works to achieve prevention and a cure for breast cancer in our lifetime by providing critical funding for innovative clinical and genetic research at leading medical centers worldwide, and increasing public awareness about good breast health. Since its inception, the Foundation has raised $195 million to support clinical and genetic research at medical institutions across the globe.
Pioneers For A Cure - Songs To Fight Cancer is the largest showcase of cancer charities on the web. Called '[A] stellar model of artist-driven grassroots philanthropy' by National Geographic, the non-profit project records public domain songs, reinterpreted and made available for donations of as little as $1.99. This treasure trove of over 100 songs has been recorded by dozens of artists from around the world including Suzanne Vega, Ben E. King, Tom Chapin, Tom Verlaine, Matt White and David Broza. Fine artist Mira Sasson has painted the Pioneer Portraits of the singers, which are made available as US Postage Stamps to fight cancer. Proceeds from song downloads are donated to artist-selected cancer charities such as the American Cancer Society, St. Jude Children's Hospital, the Breast Cancer Research Foundation, and Susan G. Koman for the Cure.
Please contact Pioneers For A Cure for more information, reviews and other press requests.
###